Napali Snorkel Adventure
Get To The Fun Faster With Kauai's Fastest Fleet
Experience an adventure of a lifetime with Holo Holo Charters! Discover the 4000' cliffs of the Napali Coast, including beautiful waterfalls, sea caves, secluded beaches, more. These custom Kauai built rigid-hull inflatable rafts will get you to the fun faster, so you have more time to snorkel, sightsee, relax and enjoy the pristine waters and spectacular coastline.
Holo Holo Charters is the only certified raft company that departs out of Kauai's north shore, in Hanalei. Minutes after leaving the bay, the spectacular Napali Coast comes into view and your captain will entertain your imagination with Hawaiian myths, stories and legends. Be on the lookout for marine life including dolphins, turtles, and monk seals.
The Captain will stop at the best spot for the day to do some snorkeling at a tropical reef. Beverages, lunch and all the snorkel gear are included.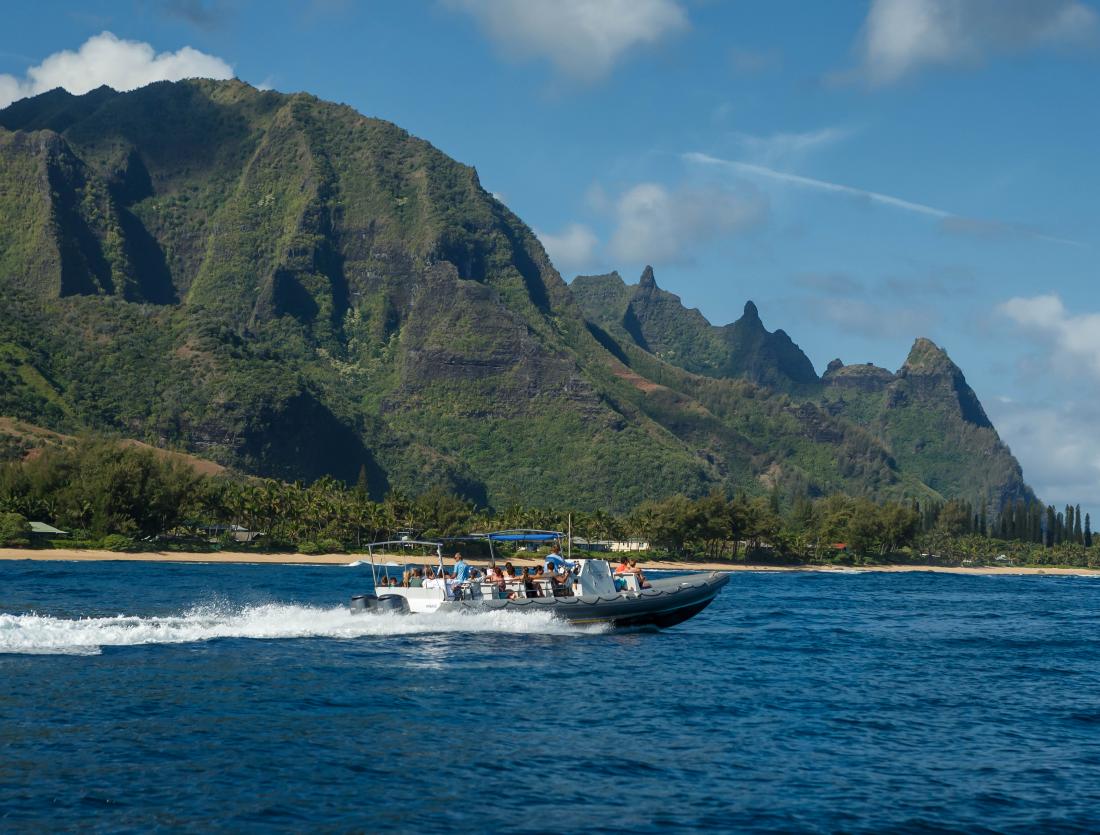 Times, Itinerary & Lunch:
These boat tours out of Hanalei are very popular and often fill up 3-5 days in advance. Booking your tour early secures your adventure!
Tour Times :
•Check-in at 7:00 am and 7:30 am at our Hanalei location (time varies by season)
•Tour Length 4 hours
•For safety, no children under 6 allowed on this tour
•Tax not included
Your Tour Includes:
•Napali Coast, with a dramatic departure from Hanalei Bay
•Fresh locally made lunch
•Soft drinks and bottled water
•All snorkeling equipment and instruction is included
•We commonly see dolphins, sea turtles, and tons of tropical fish on this tour
Fresh Lunch:
•Turkey Sandwiches on a Ciabatta Bun with Provolone Cheese, Lettuce, Sprouts and Cucumber
•Vegetable Wrap in Spinach Tortilla with Provolone Cheese, Cucumber, Carrot, Sprouts, Red Bell Peppers and Olives
•Condiments: Chipotle Mayo, Pesto Cream Cheese, Mustard and Basil Mango Dressing
•Assorted Chips & local Kauai Kookies
Beverages Include: Bottled Water, Assorted Soft Drinks and Island Juices.
Hawaii Guide's Other Recommended Holo Holo Charter Tours: