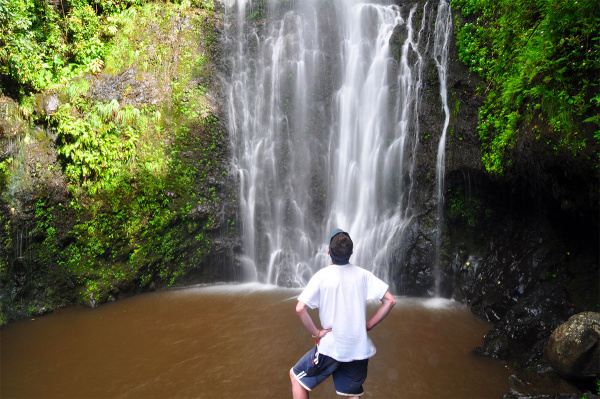 Maui Best Things to See
Maui Sights Guide
The island of Maui has some of the most diverse scenery and attractions in the world. It's also home to the most scenic road in all of Hawaii- the Hana Highway.
This world-famous road is packed full of stops as you make your way to Hana town. Beyond Hana, there is the gorgeous Oheo Gulch (also known as the 7 Sacred Pools). Upcountry, Haleakala awaits you as one of the largest dormant volcanoes in the world. In West Maui, there is the mysterious Iao Valley nestled among the rugged West Maui Mountains.
A tour around Maui can take you from the chilly summit of Haleakala at 10,023 ft. to the warm tropical waters of Molokini island off the South Shore of Maui. Our list below covers all the best Maui sights, including all attractions categorized by region, to help you navigate the island geographically.
This entry includes resources for Maui's Top Things to See, including tips, advice, rankings, maps, and more.
Top 10 Maui Things to See
The numbered sights listed below are our absolute favorites on the island of Maui. When ranking sights & things to see for visitors, we consider several variables - accessibility, scenery quality, location history, costs (if admission required), type of path (if walking/hiking is necessary), and general safety. Here are our top picks for Maui.
Haleakala Pu'u Ulaula 'Summit Hill'
Upcountry & Haleakala Region
#10 Rated in Sights to See on Maui
Technically, this attraction is part of Haleakala National Park (coming up on our list), but we simply had to include it here too.
A trip to Haleakala, Maui's highest peak at 10,023 feet, is most definitely a bucket list adventure. So if you are fortunate enough to make this journey up into the clouds, make sure to go as far skyward as possible to Puu Ulaula Summit- the highest point on Haleakala.
Climb the steps to the shelter or take the more gradual ramp from the far end of the parking lot. If you look to the southeast you will probably see the high summits of Mauna Loa and Mauna Kea volcanoes on the Big Island, each over 13,000 feet in elevation, poking their summits through the clouds.
Lahaina Town
Kaanapali & Lahaina Region
#9 Rated in Sights to See on Maui
One of Hawaii's most historic towns is also one of the most eclectic... and it is most certainly uniquely Maui.
No trip to The Valley Isle would be complete without a visit to the port town of Lahaina to stroll the art galleries, restaurants, souvenir shops, and historic gems sprinkled all throughout the bustling town. Lahaina is most definitely a Maui must-see.
A few of the many sights in Lahaina include the gigantic banyan tree - which literally takes up an entire city block, the historic Baldwin House, the old courthouse, and Front Street.
Waianapanapa State Park
Hana Highway Region
#8 Rated in Sights to See on Maui
Wai'anapanapa (Why-Ah-naa-paa-naa-paa) features sculpted lava rocks, a black sand beach, wind twisted foliage, a sea arch, lava caves, and tubes, and even a blowhole in the lava rocks near the shoreline.
Technically, this attraction is along the Road to Hana (coming up on our list), but we've included Waianapanapa here because of its uniqueness.
The area around the park is also fascinating to hike through. There are a few wet caves and lava tubes with fresh water running through them. More hiking is available to the southeast, where you could technically hike all the way to Hana town along the Waianapanapa Coastal Trail.
La Perouse Bay
Kihei & Wailea (South) Region
#7 Rated in Sights to See on Maui
Haleakala's last display can be seen on Maui's southeast shore at La Perouse Bay. Scientists estimate that in 1790 Haleakala erupted to form the jagged lava rock coastline. Now there is a monument and ruins of Hawaiian natives who made their home on the sharp a'a lava rock.
La Perouse is the end of the road, literally, in south Maui. It is located at mile marker 7 at the very end of Makena Alanui Road.
At La Perouse Bay, visitors can walk through the lava and explore the sea estuaries. This is a favorite place for dolphins and local fishermen.
Wailua Falls
Hana Highway Region
#6 Rated in Sights to See on Maui
Technically this stop, like a few others, is also on the Hana Highway (which is later on this list). But, in our opinion, it's too good not to include on its own. Just beyond mile marker 45 on the Hana Highway after it turns into Highway 31 you'll reach one of the most gorgeous falls in all of Hawai'i, Wailua Falls.
Wailua Falls gracefully cascades 80 feet through a lush setting in the surrounding vegetation just feet from the road. There is a short path to the base of the falls, but it can be tricky so use caution.
The water flow varies but is usually pretty at any rate throughout the year.
Waimoku Falls
Hana Highway Region
#5 Rated in Sights to See on Maui
You'll have to do a bit of hiking to see this beauty, but it's an adventure well worth taking. Waimoku Falls is found at the end of the Pipiwai Trail, above the Oheo Gulch Pools (coming up on our list) on the Road to Hana (also coming up on our list).
The hike to Waimoku Falls passes the 185-foot Makahiku Falls (which is also beautiful) at about half a mile into the trail. The trail follows the Pipiwai Stream and is one of the best hikes on Maui. It is four miles round-trip, gaining 650-feet in elevation. It takes 2 1/2 - 5 hours to hike, depending on how much nature loving you do.
The final destination is the fantastic Waimoku Falls. This gigantic waterfall drops 400-feet down a sheer lava rock wall into a boulder-strewn pool; this is one of the tallest falls on Maui.
Iao Valley & Needle
Central Maui Region
#4 Rated in Sights to See on Maui
Nestled in the lush greenery of the 'Iao Valley is the natural rock formation called the 'Iao Needle. The green-covered stone protruding from the valley floor is actually an old basaltic core (volcano remnant). The 'Iao Needle is 2,250 feet above sea level, or 1200 feet tall from the valley floor.
The name 'Iao is pronounced "EE-ow." The 'Iao Needle is surrounded by a very lovely walkway and garden of lush tropical plants. Surrounded on all sides by the Pu'u Kukui Crater, it was the site of one of the most famous battles in Hawaiian history. In 1790 King Kamehameha I defeated the Maui army here in his quest to unite the Hawaiian Islands.
Oheo Gulch at Kipahulu
Hana Highway Region
#3 Rated in Sights to See on Maui
The Oheo Gulch, technically part of Haleakala National Park (which is up next on our list), is located about 15 minutes past Hana town, near mile marker 42 on the Hana Highway (Road to Hana) after it turns into Hwy. 31.
We've split this attraction off from Haleakala National Park because of its geographic location and separation from the Summit portion of the park; what visitors typically think of when they hear 'Haleakala NP.' The Oheo Gulch side, also known as the Kipahulu Area, and can be accessed via Hwy. 360, the Hana Highway or Road to Hana.
The Oheo Gulch region is home to lush green landscapes, waterfalls, pools, and more - it's well worth a visit.
Haleakala National Park
Upcountry & Haleakala Region
#2 Rated in Sights to See on Maui
To say Haleakala National Park is impressive would do it a great injustice. Spanning a huge swath of land across Maui's southeastern region, Haleakala is home to the highest peak on Maui, at 10,023 feet. If that weren't enough, it also holds the world record for climbing to the highest elevation in the shortest distance- a mere 38 miles!
And not only is it one of the most popular sights in Hawaii, but it's also home to five distinctly different climate zones, breathtaking sunrises and sunsets, stunning views, otherworldly landscapes, and flora and fauna that are found nowhere else in the world.
Hana Highway - 'Road to Hana'
Hana Highway Region
#1 Rated in Sights to See on Maui
The scenic Road to Hana on Maui is the undisputed top attraction on the island. When it comes to driving the Hana Highway on Maui, it's the journey, not the destination, that is the main attraction.
There are few words that can describe the beauty of this drive with its cliffs cloaked in green and lush valleys bursting with waterfalls. Curves hug the coast and gaze over an ocean that stretches uninterrupted all the way to the Alaskan coastline.
Couple that with black, red, and white sand beaches, a multitude of trails, and beautiful gardens and you've discovered the highway to heaven itself.
Upcountry & Haleakala Sights
Lahaina & Kaanapali Sights
Maui Sightseeing Tours
Taking a tour on Maui means taking a tour of heaven itself. Lace up your boots and hike some of the best hiking trails in Hawaii. Sit back and relax and tour the Road to Hana in style. Dive into pristine waters and snorkel and explore an underwater paradise. Or hop from island to island and see everything from volcanoes to Pearl Harbor in one glorious day. No matter what you're up for, the Valley Isle will surely impress you.

Check out our handpicked Maui Tours and book your adventure today.