Visitor Info & Top Things to Do on Hawaii's Big Island
The Big Island is not to be missed, so to help make your Hawaiian dreams a reality we have assembled all the essential Big Island travel information you need right here. From determining when to travel to help you discover the perfect Hawaii accommodations or Big Island tours, we have what you need to plan your perfect trip. Snorkeling with Manta Rays in the Kona area and touring the island's volcanos is just a few of the tops things you should look into while you are visiting the beautiful Big Island of Hawaii.
Big Island Regions Guide
We say the Big Island is 'big'- and we mean it! It is an island of such proportions that all of the other islands in the main Hawaiian chain could fit inside it twice. Sitting in the middle of the Pacific Ocean, the landmass of the Big Island is approximately the same size as the state of Connecticut, about 4,050 square miles, and is still growing daily thanks to Kilauea Volcano on the eastern coast of the island.
With so many different climate zones and vastly different landscapes to explore, it can be hard to decide which part of the island to visit. Browse the regions below and learn about the many things to do, what to expect, and the diverse attractions of the island.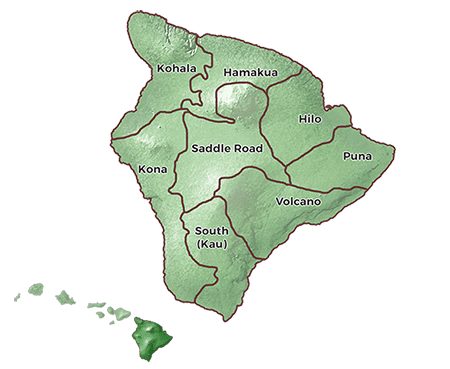 Big Island of Hawaii Vacation Guide
Explore Hawaii's Big Island by Topic
Often called the "Big Island" (or "Big I") to help distinguish it from the 1,500-mile-long archipelago with which it shares its name- Hawaii- the Big Island has undoubtedly earned its moniker.
The Big Island offers visitors an incredible, diverse, and expansive variety of things to both see and do.
Big Island Top Attractions
Favorite Big Island Things to Do
All of the Big Island of Hawaii is fascinating and worth a visit. However, some Big Island attractions are significantly more popular because they offer an experience that truly captures the magical essence of the state's largest island. Most Inspirational, Must-See, Top Picks, Best of the Big Island... no matter what you label them, you absolutely must witness these attractions for yourself.
Big Island Award Winning Services
Top Picks for Hawaii's Big Island