Top Beaches on the Big Island
Big Island Beach Guide
If variety is the spice of life, then get ready for the "spiciest" Hawaiian beach getaway imaginable! The Big Island offers up not only some of the loveliest beaches in the state, but also some of the most varied. Here you'll find everything from enchanting green sand and black sand beaches, family-friendly beach spots, and rugged and remote beaches for the adventurous types. We should also say that Big Island includes several "run-of-the-mill" white sand beaches; however, there's really no such thing here. The Big Island of Hawaii offers up some of the most beautiful beaches in the world. Choose your perfect slice of paradise from our picks for the top Big Island beaches.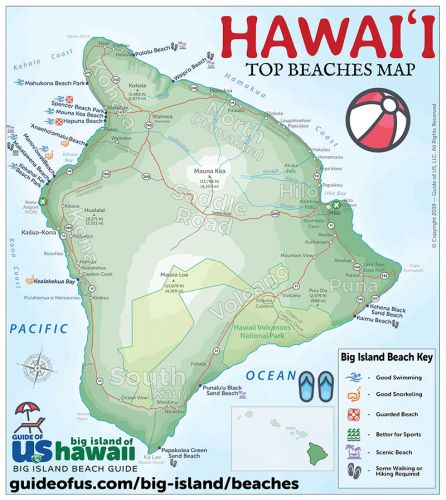 Top Big Island Beaches Map
Hawaii's Big Island Top Beaches - All on one map...
Updated with a new high-resolution map of the Big Island. Includes each of the Big Island's top beaches, all major routes, landmarks, and a key with colored icons for help selecting the perfect beach.
You may also be interested in...