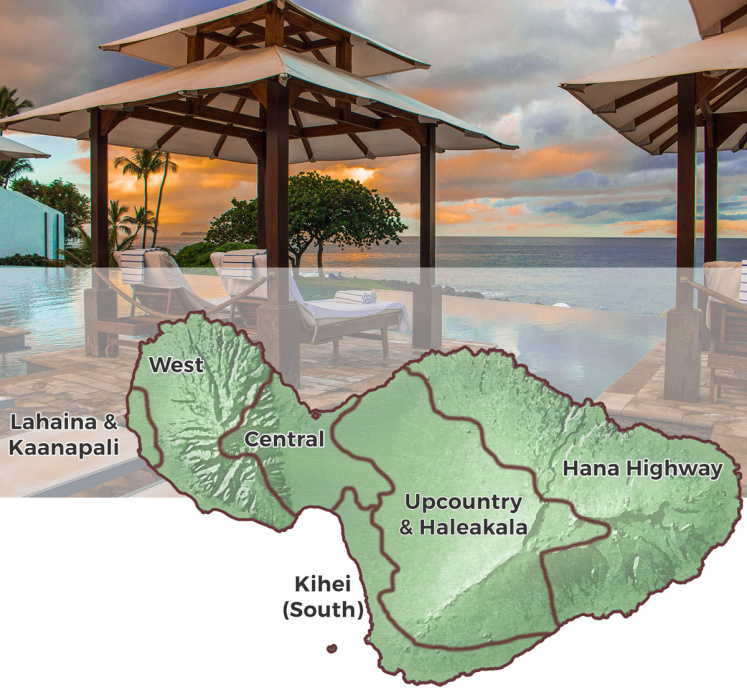 Maui Best Areas to Stay
Finding a Place in Maui
Where to stay on Maui? That's a good question if you're planning a visit to The Valley Isle. Maui is divided into several areas where the major resorts are located, and each has pros and cons when it comes to your accommodations.
First, let's get a lay of the land that is Maui. Maui isn't a huge island, at about 48 miles long and 26 miles wide, but it still takes a solid half-day to drive around the island, not that anyone does that, but it should give you some idea of the size. Maui is 728 square miles in size and can ultimately be divided into a couple of useful regions: West Maui, South Maui, East Maui (Hana Highway), Central Maui, and Upcountry Maui. The two major resort areas are located in West and South Maui, so we'll focus on those areas below.
Your journey on Maui likely began in central Maui at Kahului Airport (OGG), nestled between Haleakala to the east and the West Maui mountains to the west; this valley isthmus is why they call Maui the 'Valley Isle.' Besides picking up your rental car here, you'll also find shopping resources like Costo, Walmart, and Whole Foods in central Maui. This isn't the only location for grocery shopping, though, so don't feel like you have to pick up all your supplies in Kahului.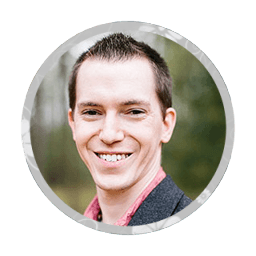 On this page, we'll cover each of the major Maui regions you can find accommodations within. Here are this page's highlights...
Maui Accommodations by Region
Let's take a look at the pros and cons of each of the areas we've briefly discussed above. These are in order of popularity, by our account.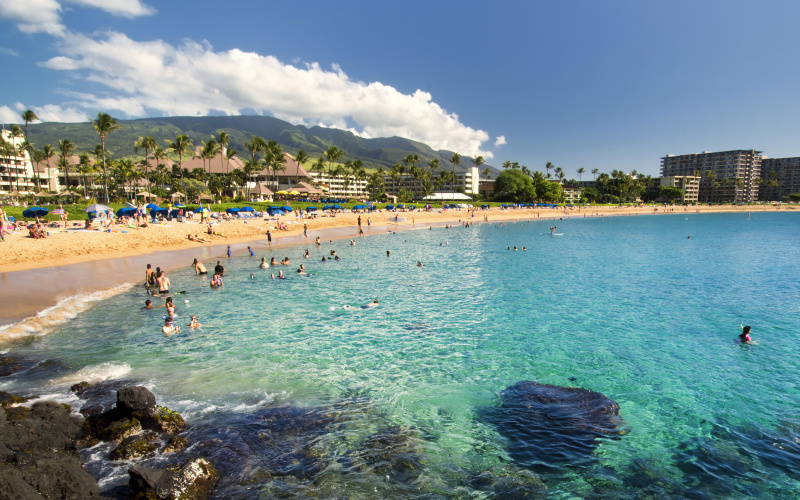 Staying in West Maui
Including Lahaina, Kaanapali, and Kapalua
Initially developed in the 1960s, West Maui remains one of the most popular destinations to stay and play on the island of Maui. Here you'll find the old whaling village of Lahaina in addition to the resort area of Kaanapali that stretches along the coastline here. The Kaanapali area is also where the majority of accommodations and dining are located on the west side of the island.
It's about a 35-40 minute drive (25 miles) from Kahului Airport (OGG) to Lahaina town and a 45-minute drive to Kaanapali (30 miles) from Kahului.
For most visitors who come to Maui, the western side of the island is where they'll likely book their accommodations; it's where the majority of resorts and condos are located. The wide selection of accommodations here makes it easy to find what you're looking for, whether your splurging on a high-end room in a resort or just looking to save some money staying in a condo, West Maui has it all.
West Maui Highlights
For those who enjoy being in the more developed parts of Hawaii, West Maui won't disappoint. There are a variety of stores and shops here, especially in the Lahaina area, that you could spend hours window shopping if you so desired. Front Street, in particular, located in the old whaling village turned playground to visitors, offers a variety of shops, restaurants, and more that will delight most visitors. Additionally, if you're planning to partake in water activities, the docks in Lahaina are where several excursions depart from; tours like whale watching, snorkeling tours, etc.
West Maui is also where you'll discover one of Maui's most popular beaches, Kaanapali Beach. Located just north of Lahaina, the beach is fronted by several resorts, including the Sheraton, Hyatt, and Marriot (amongst others). At the far northern end of the beach is Black Rock. Visitors will also discover an outdoor mall here with abundant dining and shopping options located right on the beach. There is a three-mile paved walkway that stretches along much of the beach here, making it easy to navigate from one spot to another - it seems there's always something to do in West Maui. Some of the best places to stay here include the Sheraton Maui, the Westin Maui Resort & Spa, the Hyatt Regency Maui Resort, the Kaanapali Beach Hotel, and the Royal Lahaina Resort.
The weather in West Maui is also one of its selling points. It's typically dry and sunny, which makes it ideal for being outdoors or taking an enjoyable stroll along the scenic beaches here.
Scenery wise, West Maui provides stunning views of the West Maui mountains rising behind you in the background.
If you enjoy the atmosphere of West Maui, but the development around Lahaina and Kaanapali is too busy for you, then consider looking further north at the Napili and Kapalua Bay areas. Napili Bay offers a great beach in addition to plenty of condos and smaller inns to select. Many accommodations here are showing their age a bit, but they're still nice, and you can't beat the location.
If you're seeking quiet but still want to experience the luxury feel of Maui, then look no further than the resort area of Kapalua, a favorite spot for golfers too. Here you'll find one of our recommended locations to stay, the Ritz Carlton Kapalua.
West Maui Caveats
So all that sounds great, but what else do I need to know about West Maui?
As we noted above, the Western side of Maui is more developed, and it will feel like it too.
The abundance of visitors here will make this part of the island feel busier and more crowded than other parts of the island.
Another thing to consider is the distance between West Maui and some other major attractions on the island, like the Hana Highway (Road to Hana) and Haleakala summit.
Be prepared to do a bit of driving the morning's you plan to visit either of those remarkable destinations on the island.
Great weather throughout the year
Great selection of beaches available
Great variety of stores and shops
Can be quite touristy in most locations
Can be very crowded, especially during the holidays
Can be rather far from the Hana Highway and Haleakala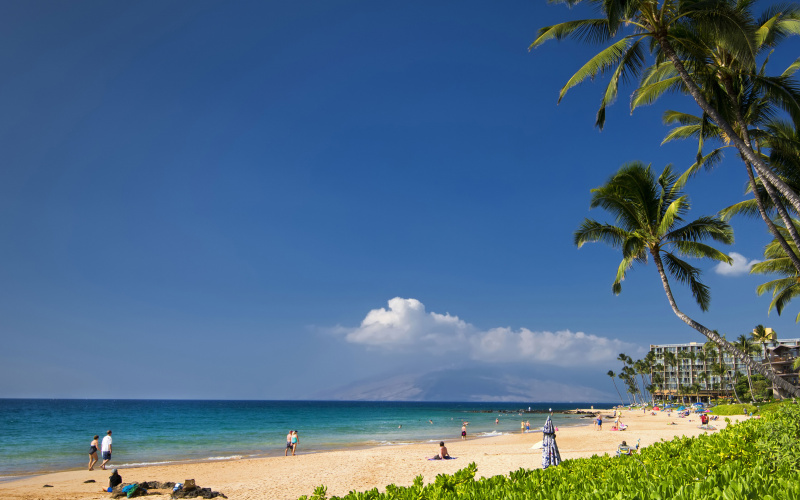 Staying in South Maui
Including Kihei and Wailea
The South Region of Maui, which includes the towns of Kihei and Wailea, is not as famous as the West side of the island, but still offers pretty remarkable options for visitors.
For starters, the weather here is even drier than West Maui, which means more sun and less rain during your stay.
The beaches, and corresponding parking, along this stretch of coastline, are also a lot less crowded than the beaches in West Maui.
South Maui Highlights
Kihei is about a 20-30 minute drive (10 miles) from Kahului Airport (OGG), and Wailea is another 10 minutes beyond Kihei (17 miles from Kahului).
Kihei offers a wide variety of condos, which can offer a much-needed price break from some of the most expensive properties in West Maui. Some of the condo rentals are newer than others, and not all are right on the beach, but most are a short stroll from the beaches that line the coastline here.
If money isn't as much of an issue, then we highly recommend the Wailea area, south of Kihei. This area includes several incredible beachfront resorts, some condo complexes, a nice outdoor mall, and several quality restaurants. The entire area is well maintained and won't disappoint visitors who can afford to stay here. Some of our favorite properties here are the Four Seasons Maui, Hotel Wailea, the Wailea Beach Marriott, and the Grand Wailea.
South Maui Caveats
Like West Maui, South Maui has some elements that make it charming and other things, not so much. The south side of the island is full of places to eat, but not all of them are great experiences, so visitors sometimes have to work a bit to find the best dining here. Additionally, there are a lot of tackier shops and small stores here. The beaches aren't usually as crowded as the West Coast, but the Kamaole Beaches I, II, and III can often fill up during the day and feel pretty busy at times.
Wailea is a fantastic place to stay; it's extremely upscale - but there's not much else to do there. Plus, a lot of south Maui will mean a good bit of driving to reach destinations on the island like the Road to Hana or Haleakala. Despite what some maps show, there is NO road connecting South Maui to Upcountry Maui, so the only way to reach Upcountry Maui and Haleakala is to drive back towards Kahului and then continue from there.
Great weather year round
A lot of cheaper accommodation rentals
Decent selection of beaches over much of the coastline
Not as much shopping available, just small stores
Not as many upscale restaurant options available
Can be rather far from the Hana Highway and Haleakala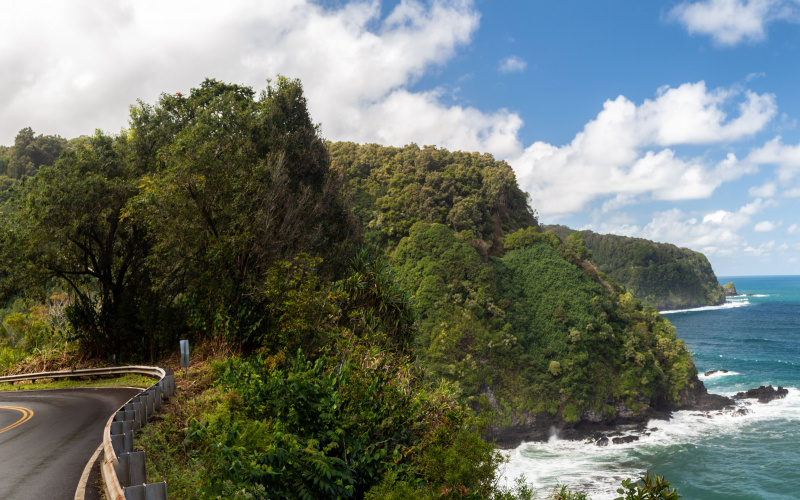 Staying along the Hana Highway (East Maui)
Including Paia & Hana
The Eastside of Maui is definitely the most remote side of the island. It's here you'll find the famous Hana Highway (Road to Hana).
While debatably the most scenic part of Maui, you'll find accommodations few and far between here, mostly with options limited to small B&B's and Inns along the highway.
There are several good shops available along the coast here, especially in Paia.
East Maui Highlights
It's about 53 miles to Hana town from Kahului Airport (OGG), and the drive takes about 2 - 2.5 hours. While most visitors will drive the Road to Hana in and back out on the same day, there are options for those looking to stay in Hana too.
For visitors who are staying the night in Hana, we highly recommend Hana Kai Maui, or if you're looking for more upscale accommodations, then consider Travaasa Hana.
East Maui Caveats
The main downside to staying in East Maui is that beyond exploring the Hana Highway, there's almost literally nothing to do here. It is also wetter and rainier along this stretch of the island, so be prepared for rain if you do stay here.
Great proximity to the sights of the Hana Highway and Oheo Gulch
Small, but beautiful, variety of beaches
Can be very wet, especially during the winter
Is geographically very isolated, a great distance from all other attractions
Paia can experience a decent amount of rain
Staying in Central Maui
Including Kahului and Wailuku
For visitors who are seeking to experience a more localized or 'real' Hawaii feel, but don't want the remoteness of Hana or East Maui, then we recommend considering staying in Central Maui. Located near the Kahului Airport (OGG) there are a variety of places to choose from; especially retreats and small Inn's (closer to Paia, in East Maui).
As with East Maui, you'll have limited options when it comes to activities, but you're pretty much centralized in the middle of the island, so most of what's available are equally distant from your location now; including visiting the Iao Valley, driving the Hana Highway, or exploring the summit of Haleakala.
Decent variety of shops available
Great proximity to most of the island, including the Hana Highway
Limited accommodations are present in these areas
Wailuku can experience a good bit of rain
Not very scenic in most of central Maui
Limited selection of beaches
Staying Upcountry on Maui
Including Haleakala and Kula
Like Central and West Maui, Upcountry offers a way to get away from the hustle and bustle of the busier parts of Maui. It offers excellent proximity to Haleakala National Park, but doesn't offer much in the way of shopping or dining; you'll have to drive a bit (likely back to Kahului) to access many places to eat and shop. Obviously, there's also no beach access in this part of Maui as well.
Great scenery and proximity to Haleakala
Lack of accommodation options
Very limited variety of stores or restaurants
No beaches
Other Factors to Consider
Weather is a factor to consider when deciding where to stay, though, for the most part, the major accommodation areas of Maui are fairly dry since they exist on the leeward side of the island. West Maui, around Lahaina and Ka`anapali, is slightly more lush than South Maui, near Kihei. During the onset of the winter months (late November - early March), Maui experiences more clouds and rain across the island. For more information about Maui's weather, be sure to check out our Maui Weather article.
If you're planning to drive the majestic Road to Hana and visit Haleakala National Park, both of these attractions can be visited by travelers staying in West and South Maui in a single (but long) day. When it comes to the Hana Highway ('Road to Hana'), we recommend spending at least one night in Hana town, or a B&B near the start of the drive, if possible.
In Summary: Selecting Where to Stay on Maui
Choosing a fabulous accommodation option on Maui is easy. You have an incredible selection available - perhaps the best in Hawaii. Stick to the western and southern coastlines if you want to stay where most other visitors are staying. Or explore the other regions of Maui to find a small B&B or inn that suites your tastes - it's up to you. Whether you stay on the drier leeward side (south and west), or prefer the lusher windward side (north and east) - it's hard to go wrong picking a location to stay on Maui.
Ultimately, Maui offers a large range of accommodations, from budget hotels and condominiums to 5-star hotels and bed & breakfasts. As we noted above, many of the Maui Luxury Hotels and resorts are located along the West Coast near Kaanapali. A few major resorts also exist in South Maui, especially in Wailea. Also in South Maui, Kihei is a popular place to stay, boasting a wide assortment of condominiums and resorts in the area. Rest assured that in either of these locations, you're bound to find beautiful beaches and good weather no matter where you look.
Inns and B&Bs also offer privacy and seclusion and can be found in many of the main accommodation areas.
Be sure to check out our When to Visit Maui article as well for additional information on what time of year is best to visit the island.