Best Beaches on Oahu
Oahu Beach Guide
There's no doubt about it- Oahu beaches are some of the most beautiful beaches in the world, and we've decided to rate our top ten right here below. Since Oahu is one of the older islands in the chain and is well developed, it has a plethora of beaches available to visitors. And no matter what your idea of the perfect Oahu beach experience may be, you'll surely find it.
There are beaches full of drama with crashing waves while others are calm and tranquil. Some Oahu beaches are nice all year round while others fade away in the winter months, leaving nothing but rocks behind.
Looking to surf one of the world's best and most challenging spots- the famous Banzai Pipeline- or watch in amazement from the shore? Then Ehukai Beach is where you want to be. Or maybe you're looking for the perfect Hawaiian beach for a secluded morning swim... if so, head to Lanikai Beach and its soft sands. Planning a day at the beach with the kids? Then family-friendly Ala Moana Beach Park has lots of shallow water for the little ones.
No matter which Oahu beach you choose to visit, you're guaranteed to have a great time! So without further ado, let's take a look at Oahu's best beaches.
This entry includes resources for Oahu's Top Beaches, including tips, advice, beach rankings, maps, and more.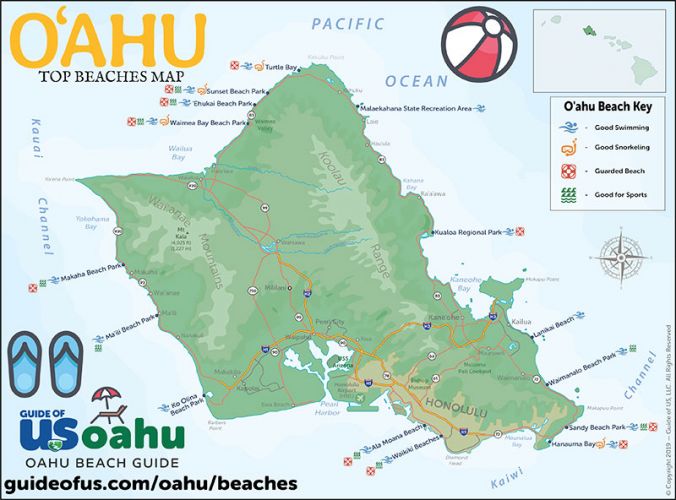 Top Oahu Beaches Map
Oahu's Top Beaches - All on one map...
Updated with a new high-resolution map of Oahu. Includes each of Oahu's top beaches, all major routes, landmarks, and a key with colored icons for help selecting the perfect beach.
Top 10 Beaches on Oahu
Which beaches are the very best on Oahu? Which are worth a visit and which can be skipped? Our beach ratings consider several key things; sand quality, waves, year-round consistency, crowds and popularity, accessibility, and the beaches' surroundings as a whole. Let's take a look at Oahu's best beaches.
Lanikai Beach
East Windward Oahu Region
#1 Rated Beach on Oahu
This little treasure has plenty of soft sand and seclusion for a morning of peaceful sun-worshipping or swimming. This beach used to be about a mile long but development has caused erosion, making it about a half-mile. But a great half mile! The two lovely offshore islands make it a picture-postcard spot. The wind is also good here for sailing and windsurfing. There is even some good snorkeling to be had.
Kailua Beach Park
East Windward Oahu Region
#2 Rated Beach on Oahu
This 2.5 mile stretch of gorgeous sand is one of Oahu's most beautiful beaches. It boasts excellent swimming and windsurfing as well as kayaking.
It has a very nice, fine sandy beach for strolling and general lounging about. This is a world-class windsurfing destination and there are several shops in Kailua that offer rental gear and can arrange for lessons. Kailua rarely experiences the high surf of the North Shore.
Waikiki Beach
Waikiki & Honolulu Region
#3 Rated Beach on Oahu
Waikiki Beach is one of the most famous beaches in the world. The two mile stretch of white sand coast is fronted by hotels and tourist facilities.
The area is excellent for swimming, surfing, boogie boarding, catamaran and outrigger canoe rides. It's likely that if you are staying in Honolulu, you'll be staying near Waikiki.
Even if you are not into crowds (and there will be A LOT of tourists here) it's worth a visit just to say you walked on Waikiki.
Waimanalo Beach
East Windward Oahu Region
#4 Rated Beach on Oahu
This beach is ideal for swimming, body surfing, and boogie boarding. Waimanalo has plenty of soft sand and is well suited for a nice beach stroll.
It can get crowded on the weekends, but is definitely worth a visit if you can squeeze it in.
Sunset Beach
North Shore Oahu Region
#5 Rated Beach on Oahu
Sunset Beach is the ideal North Shore paradise with two miles of white sand stretching 200-300 feet wide.
During the summer months the ocean is fairly calm, making Sunset idea for swimming and snorkeling or just relaxing on the beach. You can also peer into a few tide pools to observe some of the wonders of nature.
Waimea Bay Beach Park
North Shore Oahu Region
#6 Rated Beach on Oahu
Whether you're a pro surfer to simply want to admire the beauty around you, the lovely North Shore surfing spot known as Waimea Bay Beach Park is the place to be.
During the summer or calm months conditions here on Waimea Bay are usually quite calm. Visitors can experience a very peaceful and enjoyable day of swimming or simply strolling along the sand.
During the winter months, this beach is known as one of the most famous big wave surf sites in the world. Waimea Beach is rarely short of locals, big-time surfers, and any other daredevil who wants to try out waves up to 40 feet high during the winter.
Kahana Bay Beach Park
East Windward Oahu Region
#7 Rated Beach on Oahu
Kahana is sure to be an ideal spot if you are looking for trees for shade, picnic tables to enjoy a packed lunch, and there is seldom no more than a handful of people on weekdays.
The south end of the beach is quite empty and spacious, however, the northern end of the beach near the jetty is a popular camping place. The water isn't very clear due to the runoff from the Kahana stream but it is great for those that want to kayak. It is also a popular local spot for fishing.
Malaekahana Beach
North Shore Oahu Region
#8 Rated Beach on Oahu
This gem of a beach is located between the towns of La'ie and Kahuku. It isn't widely known to visitors so your fellow beachgoers will most likely be residents.
This beach has great swimming conditions just make sure you wear reef shoes since the nearshore waters are rocky. Malaekahana's northern left end houses cabins that you can rent which would be perfect for a getaway with loved ones. Offshore you will catch a glimpse of Goat Island.
Ala Moana Beach Park
Waikiki & Honolulu Region
#9 Rated Beach on Oahu
Ala Moana Beach Park is located in the large Ala Moana State Recreation Area between downtown Honolulu and Waikiki - next to Ala Wai Harbor and opposite Ala Moana Center – the largest shopping mall in Hawaii.
If you are looking for an alternative to the crowded shores of Waikiki Beach, this is the place. A popular destination for Honolulu residents, Ala Moana is a wide, seemingly endless, half-mile-long white sandy beach protected by a reef with usually calm clear waters.
The turquoise blue, shallow water lures locals and tourists alike, and it is a great place for ocean sports like snorkeling and stand up paddleboarding.
Makapu'u Beach Park
East Windward Oahu Region
#10 Rated Beach on Oahu
Makapu'u Beach Park is semi-circled by sheer black cliffs and can barely be seen from the highway that hugs the cliff edge. The whole area surrounding Makapu'u Point is picturesque and powerful, and there is a lot to see in a small locality.
Makapu'u Beach Park is a popular place for bodyboarders and surfers alike, with rip currents and a powerful shore break. The jagged black lava rock tide pools closer to the Heiau can be calmer in summer, but winter surf can erode the beach and expose large boulders in the shore break.
There are amenities here – picnic areas, BBQ grills, restrooms, and showers.
Interactive Oahu Beaches Map
Open the container below, and then click the button to display an interactive Oahu Beaches map. We've included many of the most popular beaches on Oahu.
View Interactive Oahu Beaches Map
East (Windward) Oahu Beaches
Waikiki & Honolulu Beaches
Waianae (Leeward) Oahu Beaches