Visitor Info & Top Things to Do on Maui
Maui is renowned worldwide for many things: its beauty, its atmosphere, its history, and its never-ending supply of pristine beaches, waterfalls, tours, landmarks & attractions, snorkeling, and gardens - to name a few.
Whether you're looking for the best Maui beach, a great bed and breakfast, or even a bamboo forest hike, we've assembled all the essential Maui travel tips & information you need right here. From determining when to travel to discovering the perfect Maui accommodations, we have everything you'll need to plan the perfect Maui vacation. Plan, book, and go with GuideofUS Maui.
Maui Regions Guide
Wondering which parts of the island to visit? Explore each region below to learn about the many things to do, the sights, and the diverse attractions you'll find in each area.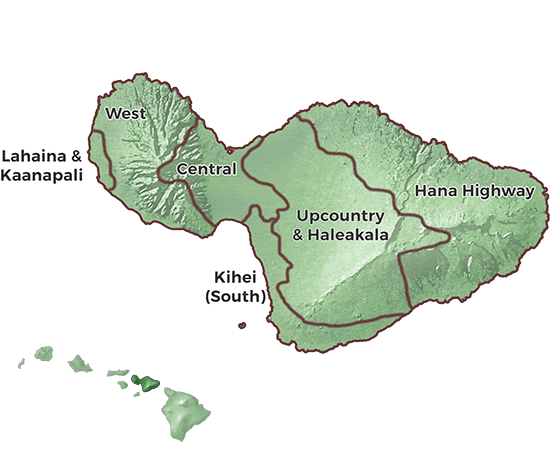 Maui Vacation Guide
Explore Maui by Topic
Maui, a.k.a. the 'Valley Isle,' is an incredible place for a Hawaiian vacation. There aren't a whole lot of places in the world you can go and experience all you can on the small island of Maui.
Maui Top Attractions
Popular Things to Do
All of Maui is incredible. However, some attractions are wildly popular because they offer an experience that embodies the essence of the island. Breathtaking, Must-See, Best of... no matter what you call them, you entirely must witness these attractions first-hand.
Maui Visitor Information
Our Top Valley Isle Travel Tips
The best beaches, things to do, great trails, and plenty of insider information and advice to make your vacation wonderful- from first-time Hawaii vacationers to Valley Isle veterans.
Maui Award Winning Services
Top Picks for the Valley Isle