Kauai Travel Guide
Visitor Info & Top Things to Do on Kauai
Kauai is an island full of splendor, raw beauty, and culture; an island that, like no other, represents the true spirit of aloha. Kaua'i really is a true hidden gem of sorts. Over 90% of the island cannot be reached by road. In fact, the most beautiful part of the whole island has no road near it - and most Kauai lovers like it that way.
The island of Kaua'i has also been a hot spot for feature films. Dozens of filmmakers and producers have chosen the Garden Isle for a backdrop in their movies. We'll help you discover all that Kauai has to offer — Plan, book, and go with GuideofUS Kauai.
Everything you need to know about Kauai is here in one convenient place:
Kauai Top Attractions
Popular Kauai Things to Do
Truth be told, all of Kauai is remarkable. However, some Kauai attractions are incredibly popular because they offer an experience that truly captures the magical essence of Kauai. Most Inspirational, Must-See, Top Picks, Best of Kauai... no matter what you label them, you absolutely must witness these attractions for yourself. Of volcanic origin, the highest peaks on this mountainous island are Kawaikini, at 5,243 feet, followed by Mount Wai'ale'ale near the center of the island, at 5,148 feet above sea level. One of the wettest spots on earth, with an annual average rainfall of 450-470 inches, is located on the east side of Mount Wai'ale'ale.
This high annual rainfall has eroded deep valleys in the central mountain, carving out ridges, canyons, and gorgeous valleys with many scenic waterfalls. Click on any of the tiles below to discover just a few of Kauai's top attractions.
Best Beaches on Kauai
Kauai Beach Guide
Kauai has some of the best beaches in the world, and the most of any major Hawaiian island. 
Some of Kauai's beaches are accessible only by trail, others by helicopter, or solely by the sea, but most are available to all visitors. 
One thing is certain, Kauai has the perfect beach for every type of beachgoer. Use our Kauai Beaches Guide to identify the best beaches for your trip.
Best Things to See on Kauai
Kauai Sights Guide
Kauai has some of the most dramatic scenery in all of Hawaii. From the towering cliffs of the NaPali Coast to the dramatic landscapes of Waimea Canyon, the Garden Isle is filled with geologic marvels that amaze and allure.
Looking for some of the world's best waterfalls? How about ancient Hawaiian villages? And let's not forget that Kauai is a great place to appreciate history and culture.
If fantastic sights are on your Garden Isle itinerary, you're in luck. Check out our Kauai Things to See Guide for more information about each of Kauai's top attractions.
Best Hikes on Kauai
Kauai Hiking Trails Guide
The island of Kauai is home to some of the best hiking trails in the entire state of Hawaii, if not the world. If you like to hike, Kauai will certainly not disappoint.
The island offers a huge variety of trails and hikes that vary from 3,000 ft. ridge and cliff trails to treks along the gorgeous NaPali coastline.
In our opinion, no other Hawaiian island can make an impression on hikers the way Kauai can. Utilize our Kauai Hiking Guide to determine which of Kauai's best trails are for you.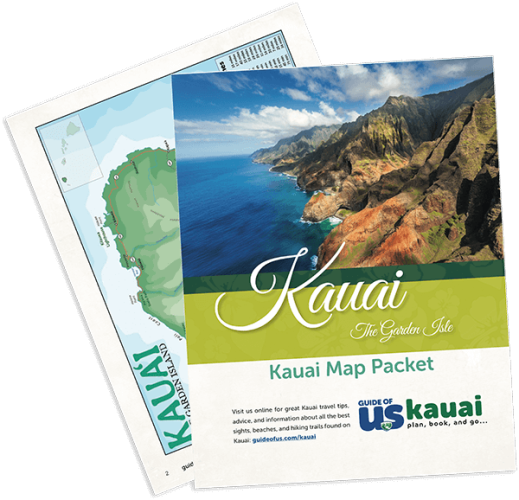 Updated Kauai Travel Map Packet
Updated with a new high-resolution printable Kauai map. Includes most major attractions, all major routes, airports, and a chart with estimated Kauai driving times.
PDF packet now additionally includes a Kauai Beaches Map.
-File size is 1.9 MB as a print-ready PDF document
Kauai Regions Guide
Kaua'i is the oldest of all the main Hawaiian Islands, dating back some 5.1 million years. The island is nearly circular in shape with a land area encompassing 533 square miles, which is 25 miles long by 33 miles wide at its furthest points.
Kaua'i has roads stretching around it from the northwest coast, starting at Ke'e Beach, moving clockwise along the eastern coast (through Kapa'a and Lihue), and then around to the west coast (through Hanapepe and Waimea). Finally, it heads north up to the ridges of Waimea and Koke'e State Park overlooking the inaccessible Na Pali coast on the west side of the island.
Let's be honest: all of Kauai is fabulous. But each area offers different attractions, sights, and things to do. Explore Kauai's regions from afar here and find the spot that's best for you. 
Kauai Visitor Information
Our Top Kauai Travel Tips
Kauai is the fourth most visited island, at 1.2 to 1.3 million visitors annually. The island is defined by its amazing verdant scenery and laid back persona. The island, arguably we'll admit, also boasts more coastline filled with amazing beaches than any other island in the chain.
It is the fourth-largest landmass in the Hawaiian island chain, which consists of eight major islands and 124 islets. The archipelago is made up of numerous volcanic islands in the central Pacific Ocean stretching in a 1,500-mile crescent from Kure Island in the northwest to the Big Island of Hawaii in the east, encompassing an area of 6,459 square miles. The eight major islands at the eastern end of the chain are, from west to east, Niihau, Kauai, Oahu, Molokai, Lanai, Kahoolawe, Maui, and the Big Island of Hawaii.
Discover fun things to do, the oh-so-amazing NaPali Coast, and insider tips and advice to make your Kauai vacation simply spectacular.
Kauai Vacation Guide
Explore Kauai by Topic