Oahu Vacation Guide
Explore Oahu by Topic
Oahu Regions Guide
Not sure which area to visit? Wondering which part of the island would be the best fit for you? Then explore Oahu from afar here- learn about the many things to do, the sights, and diverse attractions in each region of the island.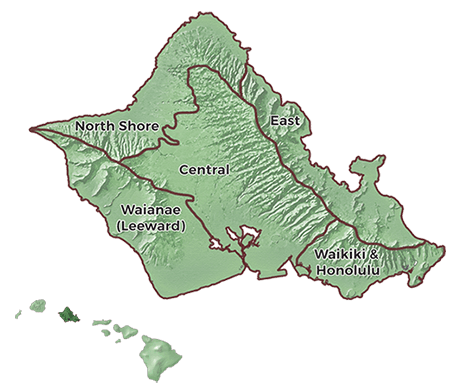 Oahu Top Attractions
Popular Oahu Things to Do
Truth be told, nearly all of Oahu is worth a visit. However, some sights and attractions are significantly more popular because they offer an experience that truly captures the essence of Oahu. Breathtaking Sights, Must-See and Do, the Best of Oahu... no matter what you call them, you absolutely must witness these attractions first-hand. Whether you're up for some surfing, kayaking, whale watching, skydiving, hang gliding, or a relaxing dinner cruise, we've got you covered.
Oahu Visitor Information
Our Top Oahu Travel Tips
Tips, tricks, and insider information about when to visit Oahu, the best places to stay, yummy eats, things to do, and much more.
Oahu Award Winning Services
Top Picks for Oahu, Honolulu, & Waikiki