Oahu Regions Guide
Not sure which area to visit? Wondering which part of the island would be the best fit for you? Then explore Oahu from afar here- learn about the many things to do, the sights, and diverse attractions in each region of the island.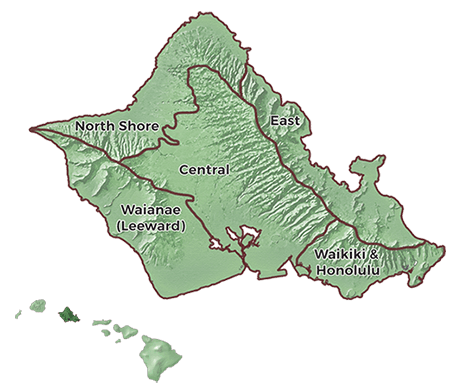 Oahu Top Attractions
Popular Oahu Things to Do
Truth be told, nearly all of Oahu is worth a visit. However, some sights and attractions are significantly more popular because they offer an experience that truly captures the essence of Oahu. Breathtaking Sights, Must-See and Do, the Best of Oahu... no matter what you call them, you absolutely must witness these attractions first-hand. Whether you're up for some surfing, kayaking, whale watching, skydiving, hang gliding, or a relaxing dinner cruise, we've got you covered.
Best Beaches on Oahu
Oahu Beach Guide
There's no doubt about it- Oahu beaches are some of the most beautiful beaches in the world, and we've decided to rate our top ten in our Oahu Beach Guide.
Since Oahu is one of the older islands in the chain and is well developed, it has a plethora of beaches available to visitors. And no matter what your idea of the perfect Oahu beach experience maybe, you'll surely find it.
There are beaches full of drama with crashing waves while others are calm and tranquil. Some Oahu beaches are nice all year round while others fade away in the winter months, leaving nothing but rocks behind.
Oahu Beaches
Best Things to See on Oahu
Oahu Sights Guide
To say Oahu is brimming with amazing things to see and points of interest is a massive understatement. Nearly anywhere you go on Oahu, you're bound to find something fascinating.
From the gorgeous Waimea Valley on the North Shore to world-famous Waikiki to the once battle-scarred Pearl Harbor, Oahu has something for everyone.
Take the kids to the Honolulu Zoo at Kapiolani Park, snorkel the breathtaking Hanauma Bay, or snap some photos at Chinaman's Hat. Our Oahu Things to See Guide will help you identify the top things to see.
Things to See on Oahu
Best Hikes on Oahu
Oahu Hiking Trails Guide
One of the best ways to explore Oahu's natural wonders is on foot; you can stop and admire whatever catches your eye, take amazing photos at your leisure, and explore at your own pace.
In our Oahu Hiking Guide, we cover some of Oahu's top trails. Luckily, Oahu hiking trails offer something for everyone.
All you need to experience Oahu's best hiking trails are some good shoes and a sense of adventure. See you along the trail!
Oahu Hikes
Oahu Visitor Information
Our Top Oahu Travel Tips
Tips, tricks, and insider information about when to visit Oahu, the best places to stay, yummy eats, things to do, and much more.
Oahu Vacation Guide
Explore Oahu by Topic
Oahu Award Winning Services
Top Picks for Oahu, Honolulu, & Waikiki