Oahu Vacation Guide
Explore Oahu by Topic
Oahu Top Attractions
Popular Oahu Things to Do
Truth be told, nearly all of Oahu is worth a visit. However, some sights and attractions are significantly more popular because they offer an experience that truly captures the essence of Oahu. Breathtaking Sights, Must-See and Do, the Best of Oahu... no matter what you call them, you absolutely must witness these attractions first-hand. Whether you're up for some surfing, kayaking, whale watching, skydiving, hang gliding, or a relaxing dinner cruise, we've got you covered.
Oahu Regions Guide
Not sure which area to visit? Wondering which part of the island would be the best fit for you? Then explore Oahu from afar here- learn about the many things to do, the sights, and diverse attractions in each region of the island.
Oahu Visitor Information
Our Top Oahu Travel Tips
Tips, tricks, and insider information about when to visit Oahu, the best places to stay, yummy eats, things to do, and much more.
Visitors' Choice on Oahu
The Best of Waikiki & Oahu
Our Visitors' Choice Awards are presented to those organizations, destinations, accommodations, and tour providers that meet the highest quality travel and tourism standards in Hawaii. Read more about our coveted travel awards here.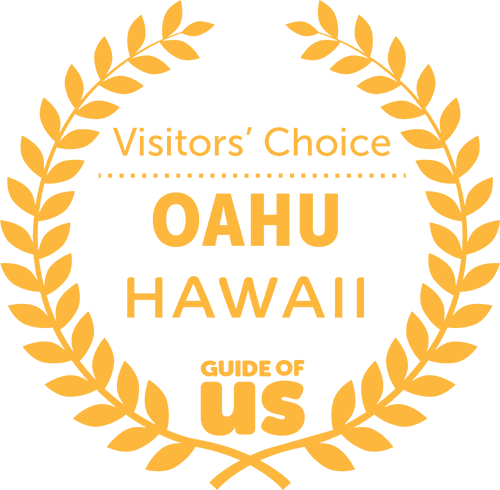 Guide's Choice on Oahu
Our Top Picks for Oahu
Our Guide's Choice Award is our most distinguished award, presented annually to Hawaiian tourism-related companies that are handpicked by our travel experts. The Guide's Choice Award is presented across two tiers within the state of Hawaii: county (e.g.; Oahu) and statewide.
This past fall, Guide of US and Hawaii Guide carefully handpicked and nominated a limited and exclusive group of Oahu tourism-related candidates for the upcoming year's Guide's Choice on Oahu.
Each Guide's Choice Award on Oahu includes a yearly timestamp to distinguish the annual interval of the award. Nominees can receive the Guide's Choice year after year, on an annual basis.
Recent Oahu Articles
Our Latest Oahu Suggestions
On Oahu, visitors can discover the world-famous Waikiki with its exciting beach scene and stunning Diamond Head backdrop. Or, head to the rugged North Shore where the best surfers in the world conquer giant waves. You'll also want to get cultured as you visit Pearl Harbor, Iolani Palace, and don't think you have to stay on land to have an amazing time, there's plenty of adventure in the water too!
Our recent posts will keep you up to date on the ins and outs of Oahu. Plan, book, and go with GoUS Oahu!