Top Beaches on Maui
Maui Beach Guide
Maui has some of the best beaches in all of Hawaii, as well as some of the most diverse. West Maui offers a number of fine beaches scattered between major resorts (Kaanapali being our personal favorite), while South Maui is teaming with a variety of beaches along the shoreline from North Kihei to beyond Wailea. The famous duo of Big Beach and Little Beach are extremely popular here. East Maui offers few beaches along the Hana Highway but makes up for it with a beautiful black sand beach at Waianapanapa State Park. Plus, beyond Hana town you'll find world-renowned Hamoa Beach; voted one of the finest anywhere. If you're up for a little adventure, there's even a red sand beach just on the edge of Hana town.
Whether you're looking for a romantic stroll for two, a family-friendly day in the sun, or the perfect snorkeling location, Maui has the spot for you. Choose your perfect slice of sand from these great Maui beaches.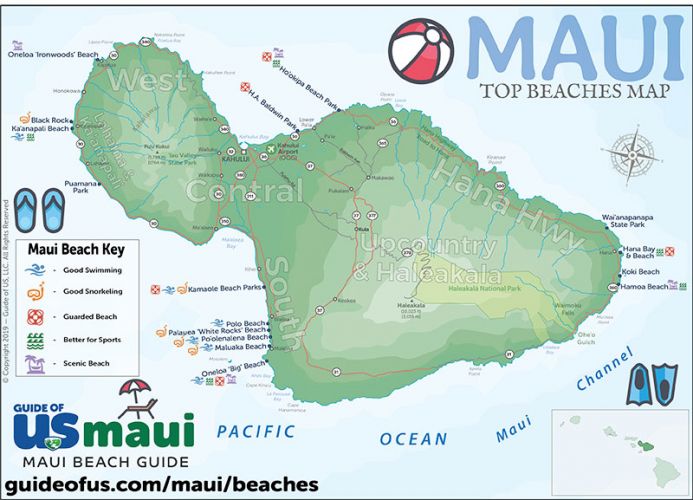 Top Maui Beaches Map
Maui's Top Beaches - All on one map...
Updated with a new high-resolution map of Maui. Includes each of Maui's top beaches, all major routes, landmarks, and a key with colored icons for help selecting the perfect beach.
Maui Beaches Map
Click the button below to display an interactive Maui Beaches map. We've included each of the most popular beaches on Maui.
View Interactive Maui Beaches Map
Maui Water Activities
You simply cannot miss the opportunity to explore and play in the waters off Maui, as each excursion truly is a bucket list adventure. Catch that perfect wave (or even your very first one), reel in "the big one" on a Maui fishing charter, or paddle into the sunset. And speaking of sunsets, how about a cocktail cruise as you watch the sun meld into the horizon in an explosion of color? See what makes these Maui ocean adventures so special.