Big Island of Hawaii Best Areas to Stay
Finding a Place - Big Island Region Pros & Cons
Knowing where to stay on the Big Island is important. The island is large (twice the size of all the other islands combined) and diverse, and many visitors are often unsure which side of the island to stay on. And because there are such a wide variety of accommodations available, the lodging selection process can be challenging. So let's talk about strategies and the best locations to stay on the island.
If you're visiting the Big Island, you'll want to make sure you allocate enough time to actually see the entire island. A week might cut it on smaller islands like Kauai, Maui, or Oahu, but the Big Island is, well, Big! It's going to take considerably more time to see all of the attractions here. We suggest one week as a minimum, but two or three weeks are ideal. Plan to divide your time between the two major halves of the island: the West Side and the East Side.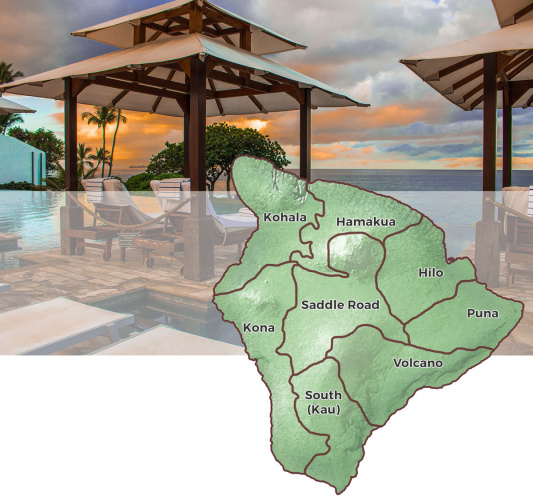 From West to East of the Big Island
You'll want to stay in Kailua-Kona on the west side and Hilo (or Volcano) on the east side. If you have only allocated a week to visit the island, then four nights in Hilo and three in Kailua-Kona will suffice; use that same ratio for longer visits.
The main reason for staying on the Hilo side, whether in Downtown Hilo or in the beautiful Volcano area, is because of the close proximity to Hawaii Volcanoes National Park. The park is so large that it takes about two days to explore, especially if there is any lava activity you want to see. The rangers at the visitor center can tell you all about what's happening in the park (you may even want to call ahead so you'll know in advance). If you plan to drive up to the summit of Mauna Kea, then Hilo is the best side to start your journey along Saddle Road. Additionally, many of the north (Hamakua) sites and Puna attractions are best visited from Hilo.
On the Kailua-Kona side, you'll have more time to explore the sights, beaches, historic and cultural locations, and attractions that exist on that side of the island, including day trips up to Pololu and Waipio Valleys. Depending on your interests, you may want to give yourself more time in Kailua-Kona or Hilo- it's really up to you. Along with knowing where to stay, knowing when to visit the Big Island of Hawaii is equally important.
Here are some tips on making this division work in your best interest... plus, they'll save you some driving time.
Fly into one of the major airports at either Kailua-Kona (KOA) or Hilo (ITO) and depart from the other. This may mean a slight fee for turning in your car on the opposite side of the island from where you rented it, but it's negligible considering gas prices on the island. If the volcano in Hilo is doing something special (another reason to call the Park in advance), then it's worth staying on the Hilo side first so you can explore the park during the first or second day/night of your visit. Be sure to check out Hawaiian Airlines for great rates.
Visit everything you want to see on that side of the island, and then drive to the other side. The volcano is very unpredictable, so if it's doing something spectacular at the start of your trip, make sure you see it because that activity could end the next day.
When driving from one side of the island to the other, always try to take the Northern (Hamakua) Coast route; it's safer and the speed limit is higher. There are also more attractions on that stretch of the island than if you were to take the Southern Coast route. We are not suggesting to never make the southern route drive, as it's also quite scenic, but only do so when the weather is good and preferably early in the day since fog and other weather conditions can make the drive hazardous later. The drive from Kailua-Kona to Hilo is more scenic via the northern route than driving from Hilo to Kailua-Kona when taking the southern route.
Avoid Waimea town and Kailua-Kona (especially north of town) during rush hour. Traffic will slow to a crawl and can be very frustrating when trying to reach your destination.
When visiting the Hilo side, we recommend staying either in a small hotel in town or preferably in one of the lodges/inns near Volcano. We love the Volcano area not only because of its proximity to the park but also because of the lush scenery. Both Hilo and the Volcano area are lush and green for a reason- it rains a good bit in these areas. Be sure to read our Big Island of Hawaii Weather article for more information. The contrast between this side of the island and the Kailua-Kona side is incredible. Stark and barren lava fields on one side and lush and verdant rainforest on the other.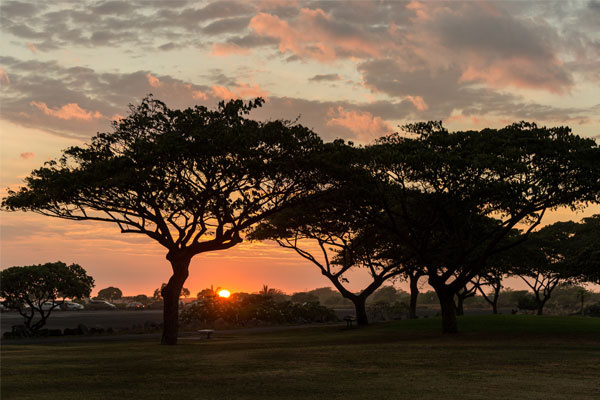 When staying on the Kailua-Kona side, again, we recommend staying in a small inn or B&B; although there are an incredible assortment of accommodations available on this side of the island- including upscale luxury resorts. Stretching from the Gold Kohala Coast north of Kailua-Kona town to the areas south of Kailua-Kona town you'll find everything from multimillion-dollar resorts to economical condominium rentals.
Big Island Accommodations by Region
Let's take a look at the pros and cons of each of the areas we've briefly discussed above. These are in order of popularity, by our account.
Staying on the Kohala (Gold) Coast
Including Waikaloa and Kohala
Wide variety of upscale resorts
Great beaches available over much of the coastline
An abundance of shopping and restaurants
No real budget accommodations
Much of the area is in a lava field and not especially scenic
Staying in Kailua-Kona
Including Kailua-Kona and Nearby Areas
A wide variety of accommodations available, including budget accommodations
Great assortment of beaches available just north of Kailua-Kona
Several historic sites in the area for history buffs
Great location to base from for West Side attractions
An abundance of shopping and restaurants available
Can be quite touristy in most places
Can be very crowded in parts of Kailua-Kona town
Traffic can be horrible from 3pm-6pm north of town
May experience VOG (volcanic smog) at times
One of our absolute favorite places to stay on the Big Island is just south of Kailua-Kona. Holualoa Inn is a luxury Big Island Bed and Breakfast that features spectacular Pacific Ocean views on 30 lush acres of well-tended tropical fruit and flower gardens. Holualoa Inn provides the perfect blend of casual elegance and Polynesian luxury. A stunning custom-tiled mosaic pool, hot tub, six exquisite guest rooms, a private honeymoon cottage, rooftop pool, and garden gazebos have delighted guests for years. Plus, there are over 5,000 Kona Coffee trees on the property!
Staying in Hilo Town
Including Hilo and Nearby Areas
Great proximity to Hamakua and Hilo attractions
A good place to base from for Hawaii Volcanoes National Park
Decent selection of shops and/or markets available
Very good access to Saddle Road and Mauna Kea attractions
Lack of swimmable beaches
Limited accommodations are available
General area not as hospitable to visitors
Can be quite wet in this area, especially at night
Staying in Volcano Town
Great proximity to Hawaii Volcanoes National Park
Very lush jungle scenery
Can be quite wet in this area
Geographically isolated from most other attractions
Staying on the Hamakua Coast
Including all places on North Shore
Good proximity to many sights on the island (except Kailua-Kona)
Can be very wet over much of the north coast
Lack of major accommodations
Staying in Puna
Including Keaau and Pahoa
Good proximity to Hilo and HVNP
Very lush scenery
Not very hospitable to visitors
Lack of major accommodations
Very wet area
Staying in North Kohala
Including Hawi and Kapaau
Good proximity to many sights on the island (except HVNP and South attractions)
Good variety of shops and art stores
Can be fairly wet in places
Lack of major accommodations
Staying in South (Kau)
Including Punaluu
Proximity to South Point and Punaluu Beach
Poor proximity to many of the island's attractions
Lack of major accommodations
Staying in Waimea Town
Great proximity to many sights on the island (except HVNP)
Decent selection of shops
Traffic can be very bad at times, especially during rush hour
Lack of major accommodations
Hopefully, you now have a good idea of what's available on the Big Island of Hawaii and can plan your vacation or trip accordingly. There are a lot of choices, but now that you know how to spend your time and which routes to take you can begin narrowing down your options.
Best of luck as you finalize your plans to visit the place of incredible diversity that is the Big Island of Hawaii.
Recommended Big Island Tours