One of the most well-known beaches on the planet, this 2-mile stretch of white sand and calm turquoise blue ocean fringed by towering high-rise and boutique resorts is located on the south shore of Oahu.
From Hilton Hawaiian Village on the west side to Kapi'olani Park in the east, Waikiki is definitely among the most popular travel destinations on the globe. Waikiki translates as "spouting waters" in the Hawaiian language, acknowledging the rivers and springs that once flowed into the area.
The Waikiki area was once a playground for Hawaiian royalty, who enjoyed surfing on longboards in the 1800's. The area was mostly swampland and was larger than it is today, encompassing the neighboring valleys of Manoa and Palolo. The longboard tradition continues today, as the conditions are perfect for the sport. A few small hotels opened in the 1800's and the first large hotel, the Moana Surfrider, was built in 1901. Other historic hotels dating back to early 20th century include the beautiful Royal Hawaiian Hotel. Today, the area is packed with every kind of hotel and accommodation to cater for the floods of tourists that flock to the famous beach every year.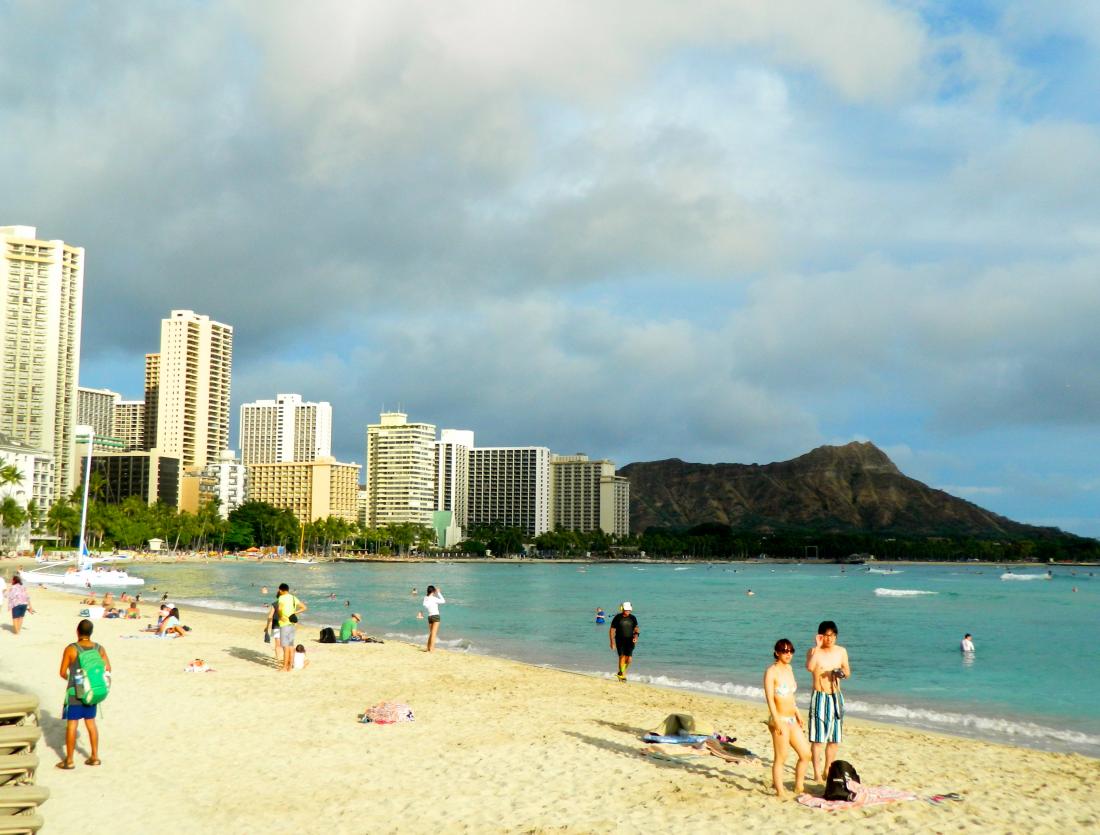 Oahu is known as the "gathering place" island, and Waikiki is the life of the party. Visitors from all over the world enjoy the world-class dining, shopping, activities and resorts, particularly along the main strip of Kalakaua Avenue. Many resorts are just a few steps away from the shore and every year there are myriad events such as surf competitions, outdoor music events, hula dancing, and outrigger canoe races.
The Waikiki neighborhood extends from Ala Wai Canal in the north-west to Diamond Head in the east, but the actual beach is fairly short, and half of it is marked off for surfers. The surf here is known for a long, rolling break which makes it ideal for beginners and long-boarding. The ocean is relatively calm year-round, but quite shallow with numerous rocks. Caution is needed for inexperienced swimmers even though the beach is well life-guarded. The main thing to watch out for are the many other swimmers, body-surfers and surfers who may not see you. Steer clear of surfers in particular as there are many inexperienced beginners attempting to surf the gentle waves. Any gentle wave can become hazardous to a swimmer when met with the velocity of a heavy board.
There is much to see and do in Waikiki. A visit to the Honolulu Zoo and the Waikiki Aquarium should be at the top of the list.
Within the wider vicinity are a variety of attractions such as Pearl Harbor, Iolani Palace, Hanauma Bay, Chinatown, International Marketplace, Honolulu Museum of Art, and the Bishop Museum, as well as a variety of evening entertainment including fabulous restaurants, nightlife and live music.
Hawaii Guide's Recommended Waikiki Beach Tours & Activities: