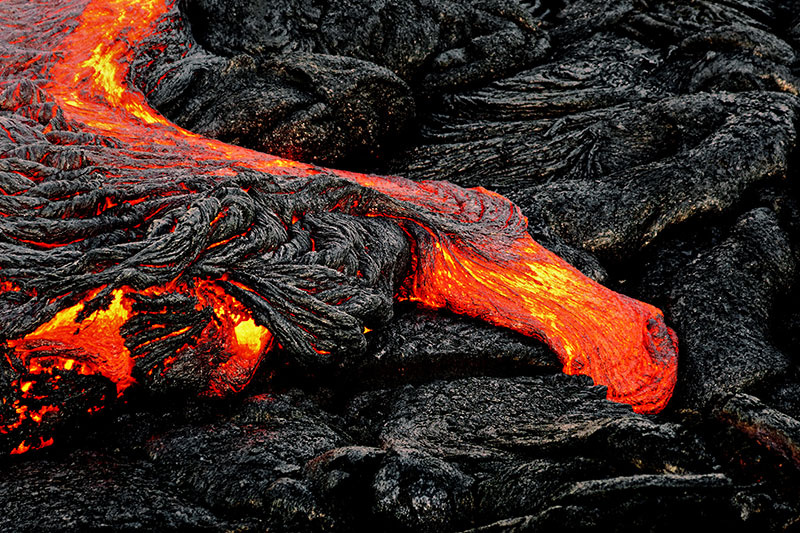 Where is the Lava?
Last Updated: 04/15/21 at 9:00 am HST
If you're heading to Hawaii's Big Island, then one of the first questions you may have is, 'Where is the lava? I want to see lava! Wait, or is it magma?' First, yes, typically it's lava you're looking for - lava is anything that's erupted from the volcano (to the surface), and it comes in two flavors, Pahoehoe and A`a. You can read more about the two lava types on our Hawaii Geology page. If it's still within the volcano, it's known as magma.
Locating the Lava Flows
Now, to answer the question of 'where.' Well, the answer to that question depends on the mood of Pele (the Hawaiian Volcano Goddess). And Madame Pele is very unpredictable.
December 2020 - April 2021 Eruption Update
Lava Returns to Halemaumau Crater in HVNP!
Currently, for the first time since 2018, ACTIVE flows are occurring inside Halemaumau Crater at Hawaii Volcanoes National Park. See our 'What's Happening Now' section below for more information.
Prior to 2018, you could just as easily have witnessed lava flows chewing on Chain of Craters Road as you could view a steam plume from afar. Kilauea is a living, breathing volcano with a mind of its own. The good news is that Hawaii Volcanoes National Park is open 24 hours a day, so your chance to see glowing lava (from near or far) is pretty good when the volcano is actively erupting (it's erupting only at the summit in Halemaumau currently), especially when it's dark. Just look for the red glow. As always, the Park Rangers at the entry station are your best guide to current conditions - we advise all visitors to check in with them before exploring the park.
Kilauea & Volcanoes National Park Lava Viewing Guide
Separately, don't forget to review our Hawaii Safety Guide for the Volcano Area (and other important Hawaii safety tips).
What's Happening Now?
December 2020 - April 2021 Eruption
At approximately 9:30 p.m. HST on Sunday - December 20, 2020, the USGS Hawaiian Volcano Observatory (HVO) detected a new glow within the Halemaumau crater at the summit of Kilauea Volcano. Within Halemaumau, an eruption has now commenced at Kilauea's summit caldera. Previously, the caldera had been filling with a green-ish water lake, but that has now disappeared, as lava has once again made an appearance inside of the crater. A magnitude 4.4 earthquake additionally hit about an hour after the volcano began erupting. By the morning of 12/21/20, two of the three initial fissure vents on the wall of Halemaumau crater were feeding a growing lava lake.
Current Halemaumau lava lake observations
Last Updated as of 04/14/21
Activity Summary:
Kīlauea Volcano is erupting. Lava activity is confined to Halemaʻumaʻu with lava erupting from a vent on the northwest side of the crater. This morning, April 14, the lava lake was 227 m (745 ft) deep and remains stagnant over its eastern half. SO2 emission rates remain elevated at 1000 t/day, last measured on April 8.
Halema'uma'u Lava Lake Observations:
Lava effusion from the west vent continues to supply the lava lake within Halema'uma'u crater. The west vent is consistently effusing lava at a low rate through a crusted-over channel and submerged inlet to the lake. Lava circulation and intermittent foundering of crust continue in the western portion of the lava lake, with lava oozing out sporadically in areas along the perimeter of the lake. The total depth of the lake is 227 m (745 ft) this morning as measured by a continuous laser rangefinder on the active western portion of the lake. Stagnant and solidified lava crust covers the eastern portion of the lava lake and is slowly growing westward.
Hazardous Conditions Warning:
Hazardous volcanic gases are billowing out the crater and present a danger to everyone, especially people with heart or respiratory problems, infants, young children, and pregnant women.
Follow HVNP for additional updates
This situation is rapidly evolving and the Hawaii Volcanoes Observatory will continue to issue statements when more information is available to the public. For now, you can receive ongoing eruption updates by following the social media accounts of the Hawaii Volcanoes National Park (Facebook, Instagram, and Twitter).
View the live cameras located at the Kilauea summit.
Additional updates can be found on the Hawaii Volcanoes National park website.
Animated GIF of the latest webcam footage from the current eruption
Animated GIF of eruption first occurring on December 20th
Additional video footage and imagery, of the current eruption at Halemaumau Crater in Hawaii Volcanoes National Park, can be found below.
Recent Eruption Images
Halemaumau Crater at Kilauea Volcano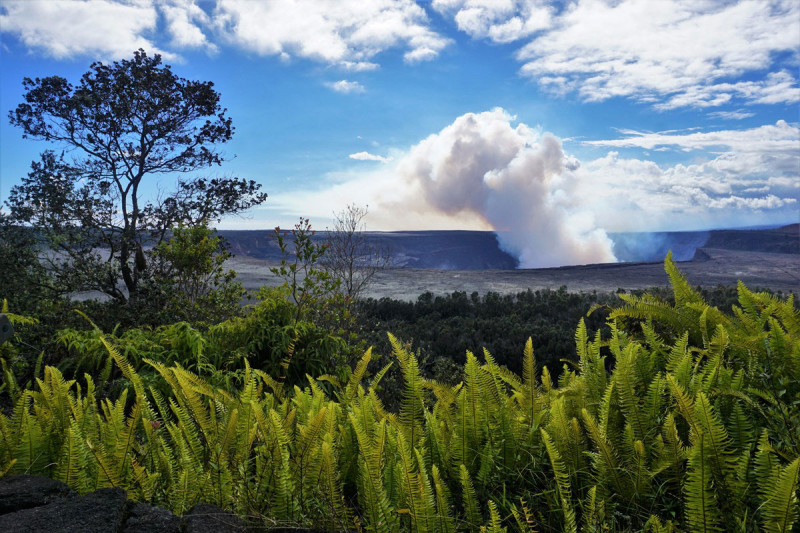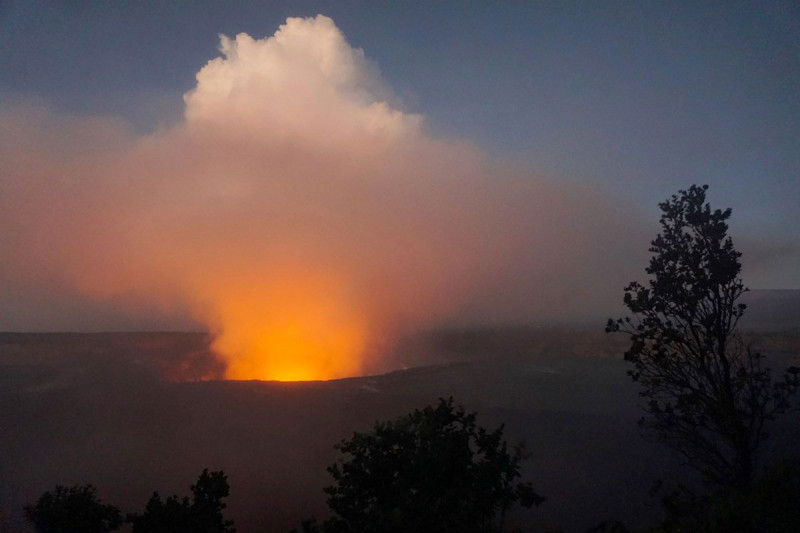 Previous 2018 Eruption
Kilauea caldera has undergone a tremendous amount of change over the last decade, and prior to the eruption in December 2020, had not been very active since 2018. See the maps below to get an idea of how volatile the years between 2009 and 2018 were at the park or explore this geo-narrative by the USGS about the 2018 eruption.
If you come to HVNP envisioning a massive cauldron with lava, you may leave disappointed. Most of the time, much of the lava, well magma really, is flowing underground into the ocean through a series of lava tubes.
Even if you don't get to see any flowing lava in person, Hawaii Volcanoes National Park and the Big Island are well worth the time.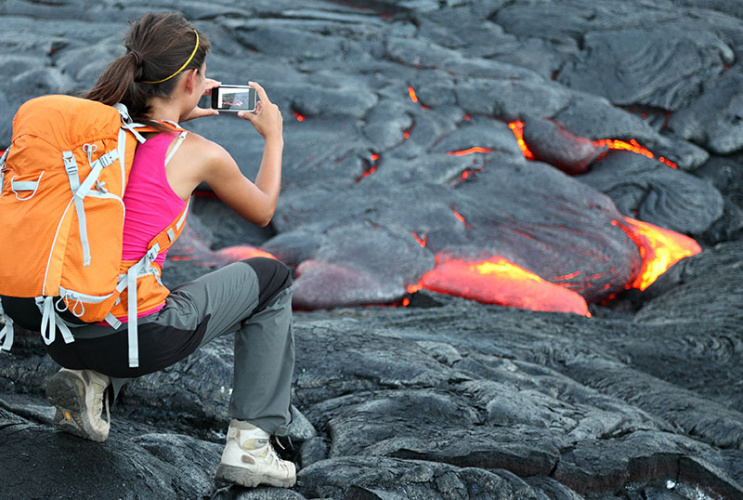 Lava Viewing Guide
Hiking to Lava
Check THIS SITE for updates on lava flows and Kilauea activity. We've also included some updated maps below to help provide you an overview of the park and where the lava might be located during your visit.
If the flows have recently been near the surface within the Park and IF it's safe to access (check with the Rangers), it's pretty easy to locate the lava yourself - so don't feel like you HAVE to join a tour to experience a lava flow. Before heading out, be sure you've prepared accordingly - dress appropriately with the right footwear for your adventure; be sure to keep water with you at all times, it can be easy to get dehydrated on the lava fields. Sunscreen is also your best friend on this part of the island.
As always, remember that lava flows outside the Park's boundary are on private property and you should not explore these locations without a guide who has permission to properly access the property.
Kilauea Volcano Tours
Our recommendation for Kilauea & lava tours is to contact Scott and Becky at The Volcano Van. They offer amazing tours of Kilauea, including several tours that depart from Kona.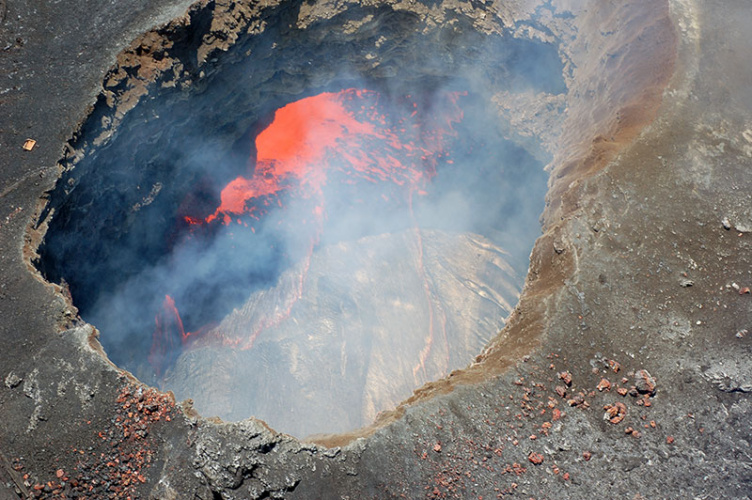 Helicopter Volcano Tours
Another great option is to take a helicopter tour over Pu`u O`o for a look into the bowels of the earth. While that too could change tomorrow, as lava has a mind of its own - a helicopter tour is your BEST opportunity to see lava.
Our recommendation for helicopters tours is to fly with Safari Helicopters. They have some amazing tours over the volcano that are perfect for experiecing Kilauea from above.
Hawaii Volcanoes National Park Overview Maps
 ~ Click to enlarge any map ~