Best Beaches to Have a Wedding on Big Island
Big Island Romantic Beaches
Making the decision to tie the knot in Hawaii? Then allow us to suggest the breathtaking Big Island for your upcoming nuptials. In staying true to its name, Big Island offers up a very big selection of beautiful beaches; many of which are ideal for your dream Hawaii destination wedding.
Another plus? Getting married on Big Island is relatively easy, as the wedding and permit process is straightforward and simple.
What's not so simple, however, is choosing the perfect Big Island wedding beach for you. You have to consider how many guests will attend; which time of year you'll be visiting; your personal tastes; accessibility of the beach; nearby accommodations… it can seem so overwhelming. And although we can't help you decide who to invite, we can give you our picks for the Top Beaches to Get Married on Big Island.
Mauna Kea Beach
Located on the sunny West Coast, Mauna Kea Beach (also known as Kaunaoa Beach) has been ranked as one of the Top US Beaches; a spot well deserved. The soft white sand beach is one of the loveliest you'll ever see, it's relatively uncrowded, and on a clear day, you can spot the impressive Mauna Kea volcano. Best of all, it's conveniently located directly in front of the luxurious Mauna Kea Beach Hotel, complete with perfectly-manicured grounds. The calm azure waters sparkle by day and twinkle magically at sunset. Please note parking can be limited, depending upon when guests arrive.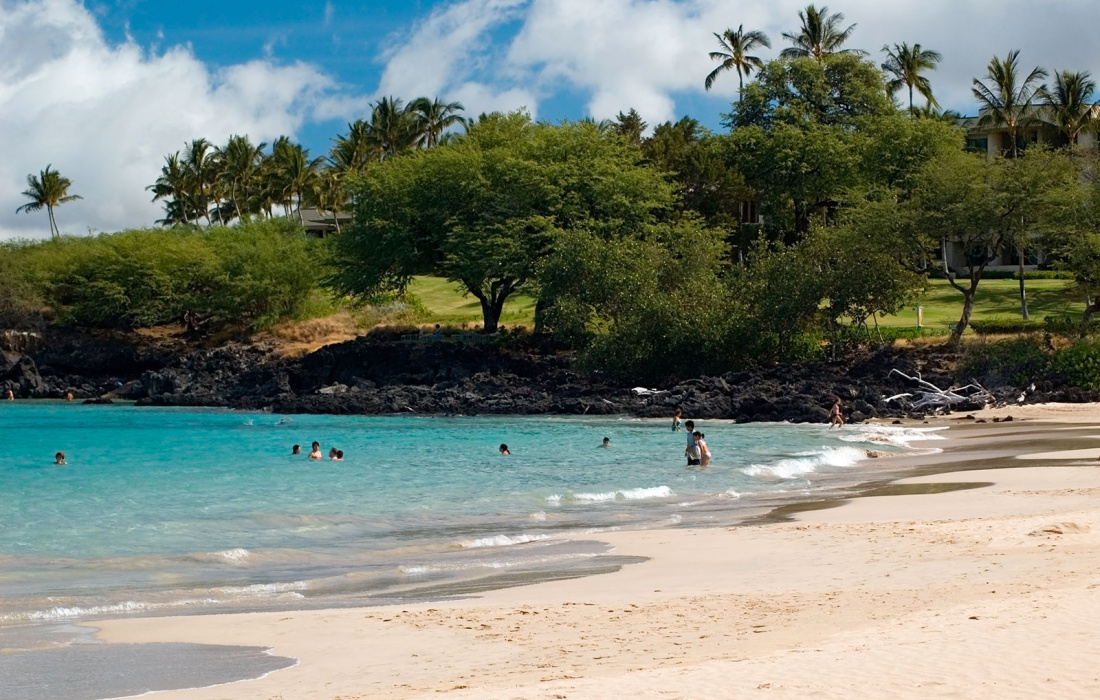 Hapuna Beach
Another Kohala Coast favorite, Hapuna Beach is located just one mile south of Mauna Kea Beach. The white sand here is cottony soft, the aquamarine waters are postcard perfect, and the sunsets are simply incredible. Best of all, Hapuna Beach sits directly in front of the Hapuna Beach Prince Hotel- a beautifully-appointed embodiment of the best of Big Island. Note that 'Hapuna' translates to 'Spring of Life'; a lovely homage to your new life together.
Kukio Beach
Another Kohala Coast gem, Kukio Beach has a lot to offer most lovebirds. Expect a pristine shoreline accented with tropical greenery, beautiful white sand, and black lava rocks along the shoreline. Seclusion is the norm here, as are gorgeously colorful sunsets. Like Punaluu Beach, green sea turtles often stop by, so please respect their space. Even though it is a public beach, parking is limited to a small number of vehicles, so it is best for smaller gatherings. And if you're looking to stay nearby, do so in style and elegance at the Four Seasons Resort Haulalai- named one of the Top 25 Luxury Hotels in the US.
Punaluu Beach
Although this southeastern beach is the most famous black sand beach on the island, it's not wildly popular for weddings. However, Punaluu Beach is perfect for those looking for a unique Big Island venue… plus, we simply love it! Sprinkle some brightly-colored flower petals and you have a recipe for exquisite wedding photos. Note that the sand can get quite hot, so sunrise and sunset ceremonies are recommended. The heat of the black sand often attracts Hawaiian green sea turtles, so you may enjoy additional 'guests' nearby. 
Makalawena Beach
If all our top beach picks are gems, this is definitely a hidden gem; and we mean that literally. Makalawena is a cluster of idyllic coves that cannot be reached directly by road, and you'll have to walk 20-30 minutes to reach the beach. But please do not rule out this treasure, as we think it just might be the prettiest Big Island beach. Once you arrive you'll enjoy the seclusion; a long, powdery white sand beach; tranquil azure waters; lava rock outcrops; sand dunes; freshwater pools; and unsurpassed serenity. Locals call it "Maks"… we call it "paradise."
Waialea Beach
Known by locals as Beach 69 thanks a former pole marker, Waialea Beach has something to please everyone: a beautiful crescent-shaped white sand beach; spectacular Kohala Coast sunsets; a nice balance of sun and shade; black lava rocks artfully adorning the shore; a cozy atmosphere; and plenty of driftwood dotting the beach. Needless to say, expect your wedding photos to be nothing short of superb. Many island visitors proclaim Waialea as their favorite; we agree and are naming it our Best Big Island Wedding Beach.
Our Top Beaches to Get Married on Big Island could have been much longer, as there is such an abundance of splendor on the island. Just remember that each beach is perfect in its own way. We hope you find your personal favorite soon.
Book Your Big Island Wedding and Honeymoon Accommodations Today
You Might Also Be Interested In