Hawaii Vaccination & Health Passports
Vaccine/Health Passport likely to be used for verification to travel
Last Updated: April 15, 2021, at 11:00 am HST
The challenges of tracking and providing proof of vaccinations, from what will likely be countless providers/locations, will be a lot different than the current 'Safe Travels' program that helps track negative pre-travel testing. Previously, the U.S. DoD (Department of Defense) has also announced plans for a COVID-19 vaccination card to track individual vaccinations. Hawaii might use that method for verification of vaccine "passport" travel. The DoD has called its card the "simplest" method of tracking vaccinations while also saying, "Everyone will be issued a written card that they can put in their wallet that will tell them what they had and when their next dose is due. Let's do the simple, easy thing first. Everyone's going to get that."
Safe Travels Card Timeline
Below we've discussed the potential timeline & phases for when these Health & Vaccine passports might be implemented in Hawaii. The 'Safe Travels Card' (which appears to be the official moniker for the 'Hawaii vaccine passport') will most likely go to Hawaiian residents first. After thoroughly testing the program for interisland travel, trans-Pacific travelers from the U.S. and foreign countries will then be permitted to begin using the program. The expansion of the Safe Travels Card program will ideally take place about a month, or two after interisland travelers begin testing the program.
Currently, we are awaiting further news from Governor David Ige, Lieutenant Governor Josh Green, and Hawaii Emergency Management Director Kenneth Hara. We expect some kind of update or announcement regarding this program soon.
The current COVID testing travel rules will remain in effect and will likely continue indefinitely for those who choose not to be vaccinated. At this time, Hawaii officials have said that vaccinations will only be an option, not a requirement to travel to the Hawaiian Islands.
Vaccine / Health Passports Introduction
Vaccine Passports also called Health Passports or the Hawaii Safe Travels Card, are mainly intended for international travel but may ultimately factor into Hawaii's 'Safe Travels' program too. Some of the companies that are currently being discussed in vaccination verification are Verifly, IATA Travel Pass, CLEAR Health Pass, CommonPass, and more recently, FirstVitals.
Based on the press conference that Governor Ige's office held on April 5, 2021, we feel fairly confident that CommonPass and/or CLEAR Health Pass, or a combination of both, will be used by travelers for vaccine verification in Hawaii. We will post additional information as it becomes available to us. More information on all of the potential vaccine passport partners is additionally included below.
Vaccination Cards + 'Safe Travels' will likely be Phase I
Vaccine Passports are not yet ready for launch, at least according to Hawaii officials. So that leaves the option of using the small white vaccination cards everyone is issued when receiving their first/second dose. According to Lt. Gov. Josh Green, a photo of travelers' vaccination cards will be required to prove vaccination. The photos will then need to be uploaded to the official Hawaii 'Safe Travels' website. As things appear now, upon arrival, all travelers will be required to additionally provide the actual vaccination card for inspection. Travelers who want to participate in the vaccination exemption will be required to have completed vaccination at least 14-days prior to visiting Hawaii.
At this time, uploading proof of vaccination and preventing fraud are the most significant challenges for the Safe Travels Card program. Initial reports suggest that potential Hawaii travelers will snap a photo of their paper CDC vaccination card and then subsequently enter their vaccine lot number and vaccination dates into the verification program. As we've noted above, the state of Hawaii is looking to partner with a software provider like CommonPass or CLEAR to verify the information is correct. In the future, both Hawaii residents and travelers alike will be able to ideally present the digital card instead of the CDC vaccine certificate to quickly waive the quarantine and minimize security processing times when visiting Hawaii.
Other destinations utilizing vaccination passports
Israel is already utilizing a domestic "Green Pass," which permits those vaccinated or recovered from COVID to participate in indoor dining, sports events, and shows, among other things. However, at this time, it has not yet been applied to travel.
Recently, New York launched the U.S.'s first vaccination passport. According to Beat of Hawaii,  the Excelsior Pass will be accepted at events and venues statewide. It also permits larger gatherings. The app is state-funded and is free. It produces a QR code to produce health status proof. Based on New York's vaccine registry, it is being linked to New York-approved testing partners. It too is not yet travel-specific at this time, however.
Editor's Note...
Hawaii's re-opening has honestly been an evolving process with numerous changes and ongoing updates. Unfortunately, we recognize that this causes confusion to potential travelers, and we are continuing to monitor this situation closely. We will provide additional pertinent vaccine & health passport updates here regularly, from official sources, on this page as additional information becomes available to us. We also encourage our readers to sign up for our 'Hawaii Travel Update' emails to receive pertinent information on all of the recent developments regarding travel to Hawaii, including vaccination policy and health passport updates.
Feel free to ask your related travel questions in the comments section below. Additionally, we've created a new page dedicated to the day-by-day updates that are occurring with Hawaii's reopening process: Hawaii COVID-19 Travel News & Headlines →
Summer 2021 Timeline for Vaccine Passports
Hawaii Safe Travels Card rollout
A potential Spring - Summer 2021 timeline has been proposed for Hawaii vaccination "passport" travel to begin
Phase 2 - "Spring" 2021 timeline for Inter-Island Travel, potentially July 2021 for trans-Pacific travel
In mid-December 2020, we initially received word that Lieutenant Governor Josh Green, who is both a physician and is in charge of Hawaii's Safe Travels program, had said that he would ask the governor to approve travel both trans-Pacific and interisland for anyone who has had a COVID vaccination without further requirements starting in early 2021. For travelers who choose not to get vaccinated, we believe the current restrictions, testing requirements, and quarantine policy are likely to remain in effect for most, if not all, of 2021 and potentially beyond.
As noted above, we believe the first phase of allowing vaccinated travelers to visit Hawaii, and bypass the testing and quarantine requirements, will entail a combination of the current 'Safe Travels' program combined with providing evidence of your vaccination card issued when you received your COVID-19 vaccine.
July 2021 appears to be the latest target date for Vaccine Passport travel to begin
Initially, it was proposed to start at the beginning of February 2021, but this has since been postponed until sometime later in 2021. During a news conference on April 5, 2021, Governor Ige indicated it may be the July 4th weekend before trans-Pacific travelers will be able to utilize Health/Vaccine passports for travel to Hawaii.  Governor Ige has said that Hawaii state officials are currently focused on getting shots into Hawaii residents and that they haven't made vaccine record keeping a priority at this point. Gov. Ige said, "The challenge is that there is no comprehensive record of those who have been vaccinated in Hawaii."
Additionally, Governor Ige also mentioned the state is not yet ready to open up inter-island travel without the current testing requirements. Gov. Ige said COVID-19 case counts on both Maui and Oahu remain elevated: "I think we do support limiting travel between these counties and others until we can get more people vaccinated so we can prevent [the] virus spreading island to island." According to the latest news, Lt. Gov. Josh Green is continuing to advocate for an inter-island travel pilot program to begin May 1st.
Ultimately, despite the likely delays in implementing this program, the latest news continues to suggest that vaccine/health passport travel will begin in three phases; which we've outlined below.
Phases to Hawaii Vaccine / Health Passport Travel
First, essential workers who have been vaccinated will be permitted to travel without additional conditions. This could begin imminently; we are awaiting an announcement from Governor Ige.
Second, inter-island travel will be permitted for vaccinated travelers, pending the Governor's approval. This could begin as soon as late April to early May 2021 - but may not happen until a later date. As noted above, Lt. Gov. Josh Green is advocating for a pilot program to begin May 1st for inter-island travel.
Finally, trans-pacific travel from the U.S. mainland and potentially abroad will be permitted. This, according to the Lt. Governor and Governor, could begin sometime in early July 2021. This could come sooner if the state of Hawaii utilizes vaccination cards as a Phase I approach instead of Vaccination Passports.
Latest CDC guidance indicates domestic travel can resume normally
On April 2, 2021, the CDC finally released its recommendations for vaccinated persons in regards to travel. Their new guidance states, "Fully vaccinated people can resume domestic travel and do not need to get tested before or after travel or self-quarantine after travel." At this time, this change in CDC guidance has NOT altered Hawaii's policies for travelers. We will continue to monitor this situation and provide updates accordingly. We do expect the state of Hawaii to make some changes in light of this new information.
The Bottom Line Currently...
Ultimately, the decisions regarding the future of vaccine travel are now in Hawaii Governor David Ige's hands. As recently as late March 2021, Lt. Governor Josh Green said he still hoped to see a Hawaii vaccination passport for mainland visitors no later than May 2021, while the head of the Hawaii Emergency Management Agency remained concerned about successfully bringing this to fruition by that time. Green has even indicated the state of Hawaii may accept vaccination cards before other forms of verification. However, Hawaii Emergency Management's head Kenneth Hara remains concerned about counterfeit physical immunization cards entering the system. So we're awaiting further developments on this.
Ultimately, the news conference held by Governor Ige on April 5, 2021, also would seem to confirm that July is a more accurate timeline for vaccine/health passport travel to begin. However, we should note that this timeline could speed up. The second week of April 2021, the governor approved a vaccine exemption for travel, which, as noted, Emergency Management's Hara must approve before any additional steps can be taken.
As noted above, we are currently awaiting further news from Governor David Ige, Lieutenant Governor Josh Green, and Hawaii Emergency Management Director Kenneth Hara. We expect an update of some kind very soon.
Who are the potential Vaccine Passport partners?
CommonPass, working together with The World Economic Forum, aims to restore travel with its secure and verified documentation of health status for travelers. The CommonPass program operates through Apple's Health app on iOS and CommonHealth for Android, and, according to its creators, it has already been connected to 230 U.S. health systems nationally. It functions as a scannable QR code that holds a passenger's test data or vaccine documentation and travel plans. The program, which is currently in trials through participating airlines (e.g., United), is not yet available to the public at this time. According to the latest news, it appears likely that CommonPass will be the company selected to aid Hawaii officials in vaccination verification.
CLEAR Health Pass, which we've included more information on here (via our COVID Testing page), is currently being used by passengers on both Delta and United flights traveling nonstop from LA International Airport (LAX) to Honolulu (HNL). Currently, these passengers are able to securely link their negative COVID-19 test results via CLEAR's Health Pass and verify their identity, making it simple for Hawaii officials to identify travelers approved to avoid the state's current mandatory 10-day quarantine. Currently, we believe an expansion of this program could be used for vaccination verification as well.
The International Air Transport Association (otherwise known as 'IATA') is also looking into developing an application to provide a standardized and global solution for vaccine travel. Additionally, the idea of an application, like IATA's or the CommonPass app noted above, that centralizes travelers' test results, health waivers, and eventual proof of vaccination is expanding in the United States. Two apps that aim to verify travelers' inoculation are taking off as verification for required test results and health waivers — with one expanding to five airlines' U.S. routes this month. Read more in the Washington Post.
Additionally, as recently as late March 2021, according to Beat of Hawaii, Lt. Governor Josh Green has said the state is working with First Vitals for vaccination verification purposes. Lt. Gov. Green said that First Vitals would verify health records and provide encryption for security purposes. As BoH points out though, the selection of this company is a seemingly odd juxtaposition provided that the company's home page access isn't secure and their SSL (security) certificate has expired.
Alaska Airlines has announced they are currently working with VeriFLY, another platform used to verify identity and testing/vaccination status for international travelers. We can see this type of app being used alongside the current "pre-clear" program the airlines have established for Hawaii travel. VerifyFLY has previously said their "Design ensures the privacy of the individual and keeps the credentials and biometric data of the person on the device. *** This verifies that the passport belongs to the person in front of the phone and that the passport is genuine and has not been tampered with."
Vaccine / Health passports on mobile phones
These mobile applications will be used to verify both our identity as well as testing and vaccination records. These will likely be accessible via QR code or similar means for airlines and appropriate travel authorities to quickly and easily scan. To date, various Airlines have been very involved in testing these vaccine/health passport apps.
The bottom line - how vaccination results get integrated into the Hawaii Safe Travels program isn't yet apparent. We will continue to closely monitor this topic and provide more information as it becomes available to us on this page.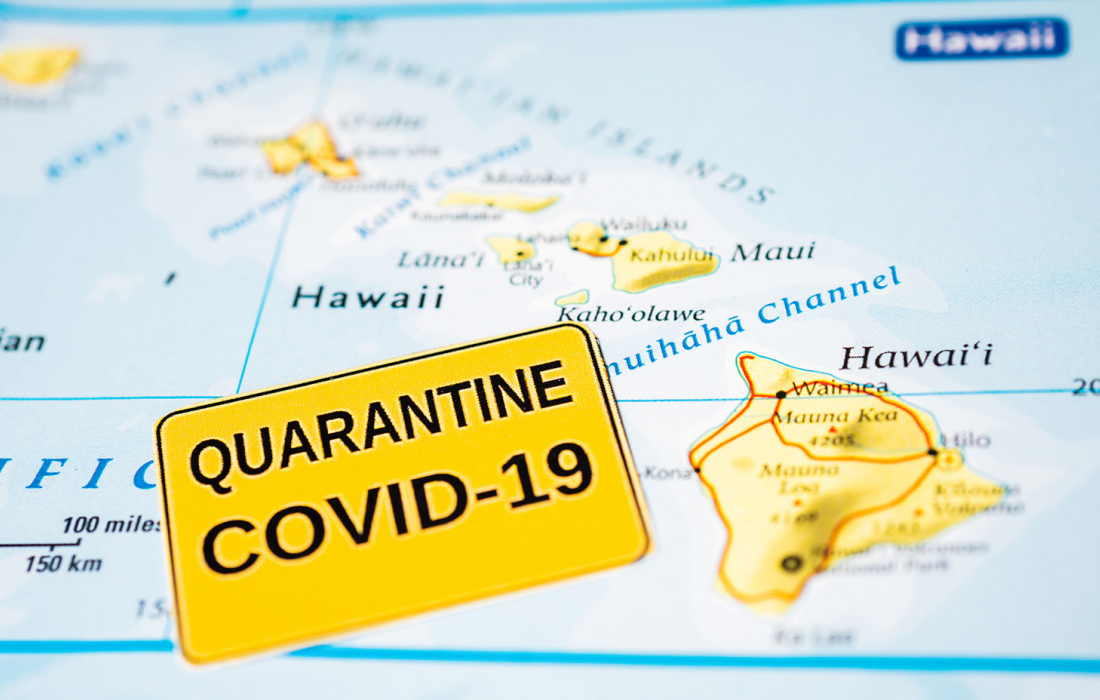 What is currently required to visit Hawaii?
The pre-testing travel program began last October 15, 2020
Effective March 26, 2020, and until further notice, Hawaii Governor David Ige is mandating all visitors arriving in the Hawaiian Islands to self-quarantine for 10 days. This means all passengers traveling to Hawaii (visitors and returning residents) must self-quarantine for 10 days following arrival. See our Hawaii Travel Restrictions page for additional information on the current status of COVID-19 in Hawaii.
The pre-testing travel program, which started last October 15, 2020, effectively re-opened the islands to visitors, as long as they bring along proof of a negative NAAT test (nucleic acid amplification test), from a state-approved trusted testing partner and complete a State Travel and Health form upon arrival within the state.
The negative test will need to have been conducted by a Clinical Laboratory Improvement Amendments (CLIA) certified laboratory no more than 72 hours prior to the visitor's departure and will need to be an FDA-authorized NAAT test. Again, the test MUST come from a trusted partner at this time.
To reiterate, this test result must be confirmed prior to arrival in Hawaii and the visitor must present evidence of this test upon arrival. See our Hawaii Re-opening article for more information.
Additional Hawaii Resources
COVID-19 Information
Information Disclaimer: Details and information on this page, including dates, may change on a day-by-day basis. While we will be making every effort to keep these pages relevant and up to date, the decision to travel is ultimately your own responsibility. Please travel safely and keep an eye on our Hawaii Travel Restrictions page for more information regarding COVID-19 and re-opening in Hawaii.
Terms of Use & Disclosures
This website's use is your expressly conditioned acceptance of the terms, conditions, and disclaimers found within our Disclaimer of Warranty and Limitation of Liability page without any modifications. Your use of this website constitutes your acceptance of all the terms, conditions, and disclaimers posted herein. If you do not agree with any part of these terms and conditions, you should not use this website. We also receive a small commission from travel partners for some of the links found on this website. All partners and related links comply with our Advertising Disclosures. For example, as an Amazon Associate, we earn from qualifying purchases. These links do not cost you anything and help provide the necessary funding to maintain this website. Mahalo!