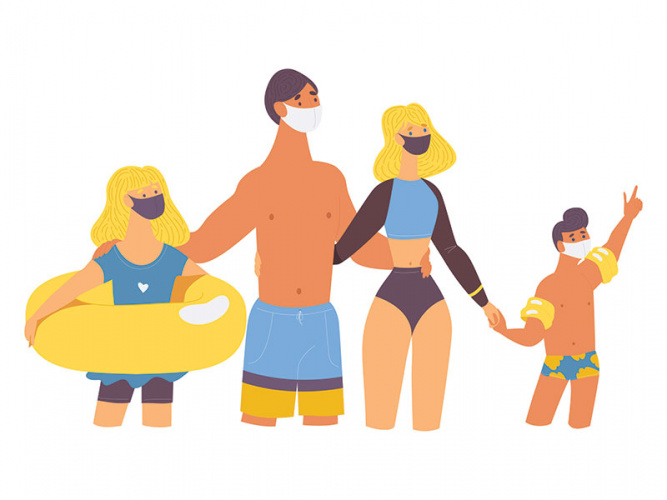 Current Travel Restrictions & Requirements
Hawaii 14-day Quarantine in effect until October 14th
Last Updated: September 27, 2020, at 12 pm HST
Effective March 26th through October 31st, there is a quarantine restriction for all in-bound visitors to the Hawaiian Islands. Hawaii Governor David Ige mandates all visitors arriving in the Hawaiian Islands to self-quarantine for 14 days, meaning all passengers traveling to Hawaii (visitors and returning residents) must self-quarantine for 14 days following their arrival. However, beginning October 15th, a pre-travel testing option will allow travelers an alternative. Below we've covered the individual restrictions on each county/island in the state of Hawaii.

As noted above, the Hawaiian islands are set to re-open with a pre-travel test requirement on October 15, 2020 (18 days from today). Additional information can be found in our updated article: Hawaii Reopening to Visitors - What you need to know →
Hawaii Travel Restrictions & Rules - Here's what you need to know...
Applicable to all Visitors before October 31, 2020
The new online Safe Travels application is now mandatory for all travelers. The online application can be found by clicking here.
For more information, see our updated section about the new Safe Travels program below on this page.
According to the Hawaii Tourism Authority, people who are required to self-quarantine for 14 days must designate a hotel or motel as their chosen quarantine location.
No person who is subject to the mandatory self-quarantine is allowed to stay in a short-term or vacation rental. Again, this is according to data provided by the Hawaii Tourism Authority (HTA).
Additionally, operations that rent vehicles may not rent to any person who is subject to a 14-day traveler quarantine order unless an exemption is granted.
The state of Hawaii's Department of Transportation Website further explains the entrance and quarantine process.
Violation of the quarantine will be a misdemeanor and subject to a possible fine and/or jail time.
The quarantine mandate will continue until October 31st for all arrivals, and visitors are responsible for quarantine costs.
Visitors may bypass the quarantine requirements, beginning October 15th, with a pre-travel test! We encourage all visitors to keep an eye on our Hawaii Quarantine & Travel Updates page for additional information on visiting Hawaii during the COVID-19 pandemic.
Resort Bubbles?
We've now also learned that the new Hawaii 'Resort Bubbles' concept has been initially approved for all quarantined travelers, though this has been approved only on Kauai to date. This plan may or may not come to fruition provided how close things are to the official reopening date. We will continue to update this page accordingly, and the information below, as soon as we have new official information to share.
Hawaii Travel Restrictions on Individual Islands...
The response to COVID-19 by the different Hawaiian counties has created a patchwork of emergency rules, orders, and proclamations. Naturally, we recognize this may cause some confusion to visitors. This is especially true since some of these rules and regulations are universal for all of Hawaii, such as the requirement that people must wear facial masks when entering places of business and in all airports; while other rules differ between the individual counties. Below we've posted up-to-date list of the unique measures and emergency orders for each individual island/county. We've also included links to the most relevant official resources.
Oahu Restrictions on Travel, Business, & Operations
Oahu beginning partial re-opening from restrictions on September 24th
Oahu is currently beginning to re-open in phases (tiers) and certain businesses and operations can begin to operate again on Oahu.
Summary of Oahu Restrictions:
Social gatherings of up to five (5) people (who do not have to be related) at parks, beaches, and trails.
Retailers and essential businesses, including big box stores, can begin to operate at 50% capacity.
Spiritual services may operate up to 50% capacity.
Restaurants may begin operating at up to 50% capacity, with no more than five (5) people from the same household per table. Diners will also need to make reservations and provide their contact details.
Museums, attractions, and zoos are allowed to reopen, with a 50% capacity for indoor areas.
Movie theaters can also reopen, but cannot offer food and drinks to customers at this time.
Bowling alleys are allowed to operate with a 50% capacity limit; parties cannot exceed five people.
Hair salons, barbershops, and nail salons are permitted to reopen, with modifications.
Gyms and fitness facilities may operate outdoors only.
Businesses still closed under the order include bars, nightclubs, and helicopter tours.
Short-term rentals (lodgings that provide guest accommodations for less than 30 days, other than hotels and motels), are not Essential Businesses or otherwise allowed to operate. As such, short-term rentals may not operate, and they are not legally recognized places for visitors to lodge or self-quarantine.
You can read more about Oahu's re-opening plans and tiered system at Hawaii News Now or the Star-Advertiser. For further details about Oahu restrictions, click here.
Kauai Restrictions
You can find the most recent updates on Kauai via the Kauai COVID-19 web page. All Kauai emergency rules and emergency proclamations can be found on the Kauai Emergency-Proclamations web page.
Summary of Kauai Restrictions:
Under Emergency Rule 12, short term rentals, transient vacation rentals, and homestay operations may reopen. No person that is subject to the mandatory self-quarantine is allowed to stay in these operations unless they are the owner of the property.
Under Emergency Rule 13, indoor gatherings of groups of up to 10 persons are permitted and outdoor gatherings of groups of up to 25 persons are permitted. All gatherings are also subject to requirements to maintain physical distancing, wearing face coverings and complying with other requirements of the Centers for Disease Control and Prevention.
As we reported above, Kauai is also working on a "resort bubble" program, which would allow visitors to fulfill the quarantine requirement while being able to use resort facilities. This program is still in the process of being developed but will likely require visitors to wear a GPS tracking device. This is to ensure they do not leave the 'resort bubble' during the quarantine period.
Maui Restrictions
Including Maui, Molokai, and Lanai
You can find the most recent updates on Maui via the Maui county website. All Maui emergency rules and emergency proclamations can be found on the Public Health Emergency Rules web page.
Summary of Maui Restrictions:
Indoor and outdoor social gatherings are limited to no more than 10 people. Face masks are required, and physical distancing of at least six feet between separate groups must be maintained at all times.
Beaches and county parks are currently open.
Vacation Rentals can be rented ONLY if you are not subject to the 14-day quarantine. This list of hotels are approved quarantine locations for travelers at this time.
Big Island Restrictions
You can find the most recent updates on the Big Island via the the county of Hawaii COVID resources web page. All Big Island of Hawaii emergency rules and emergency proclamations can be found on their website.
Summary of Big Island Restrictions:
Indoor or outdoor social gatherings of groups up to 10 people are permitted. Face masks in public spaces are required, and physical distancing of at least six feet between separate groups must be maintained. Members of a single residential or family unit who share the same address are not restricted by the 10 person limit.
Under Emergency Rule 11, all county and state beach parks on the Big Island will remain closed through the end of September. Beach and coastal parks may be used for direct access to and from the ocean in order to engage in exercise, fishing, and gathering food, but parking lots will be closed and persons are not allowed to linger on the beach.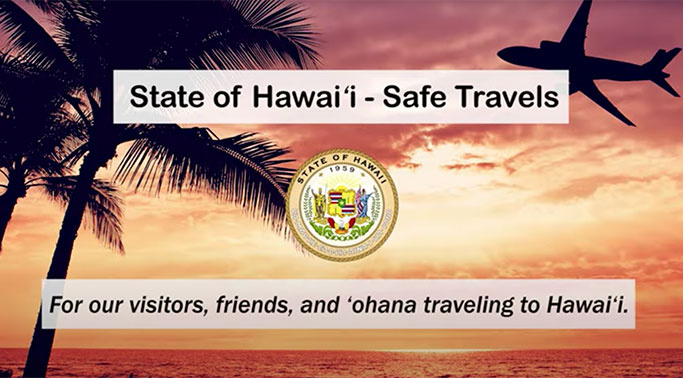 New 'Safe Travels' Program
Required for all travelers to the Hawaiian Islands
As noted above, the State of Hawaii's new online Safe Travels program is mandatory for all travelers.
This program, which collects the required health and travel information, is critical to protecting the health of residents and visitors alike.
For common questions or other issues with the 'Safe Travels' application, visitors can click here.
Recommendations & Process
Travelers are encouraged to enter their information and trip details well in advance of their flight.
Once their health information is entered 24 hours before departure, travelers receive a QR code via email.
The QR code on their mobile device OR printed on paper gets scanned by the airport screener upon arrival.
Additional Information
New features and data elements will be added in future phases, as the Safe Travels process and State travel requirements evolve.
Travelers without smartphones or computers can ask a friend or relative for assistance or receive assistance at the arrival airport.
Restrictions on Inter-island Travel in Hawaii
On August 6th, Governor David Ige announced in his 11th Emergency Proclamation that a partial inter-island travel quarantine will be re-instated effective as of August 11, 2020.
The quarantine requirement applies to any person traveling to and between the islands of Kauai, Hawaii, and the islands comprising the Counties of Maui and Molokai (Kalawaoi), and Lanai.
It does not include inter-island travelers arriving on Oahu.
For Kauai, Maui, and Hawaii Island travelers
The period of self-quarantine will begin immediately upon arrival and last 14 days or the duration of the person's stay on the island, whichever is shorter. The inter-island quarantine continues through at least September 30th.
Interisland travelers are required to use the Safe Travels app in order to travel to a neighboring island.
International Hawaii Travel Restrictions
The information found on this web site is currently for domestic U.S. TRAVELERS ONLY at this time. Currently, international travel restrictions prohibit European and other countries from traveling to the U.S. We will continue to monitor this situation and update this section accordingly.
Additional Hawaii COVID-19 Information & Resources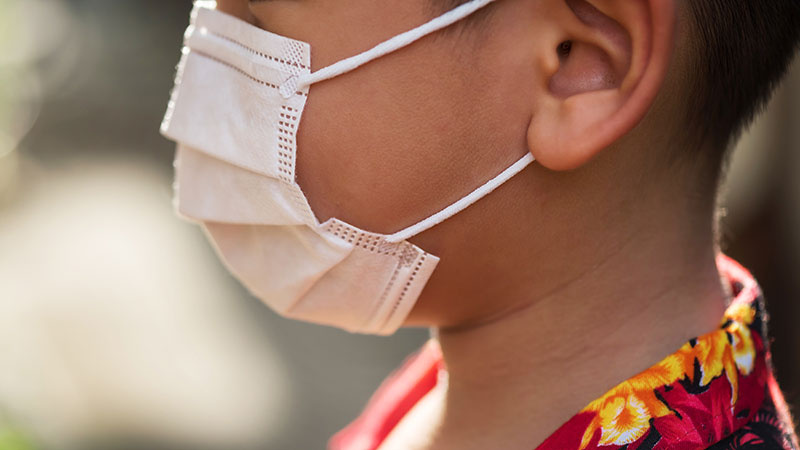 Are facemasks required in Hawaii?
At this time, everyone must wear face masks in all Hawaii airports and when entering places of business in Hawaii. If you are not able to practice social distancing, you should also wear a facemask while in Hawaii.
Each county may have its own rules, so be sure to check the county links below:
Of course, ultimately mask-wearing in public is encouraged in Hawaii and is considered a sign of showing Aloha for others.
Visiting Hawaii
Upcoming Months of Travel
We think it is safe to say that any month of the year you will not be disappointed when you visit the Hawaiian islands. Here's an overview of what to expect in the coming months. Not sure when to visit? Read about the Best Month to Visit, where we present an overview of each month OR take the quiz on our Best Time to Visit Hawaii page.
Information Disclaimer: Details and information on this page, including dates, may change on a day-by-day basis. While we will be making every effort to keep these pages relevant and up to date, the decision to travel is ultimately your own responsibility. Please travel safely and keep an eye on our Special Alerts page for more information regarding COVID-19 and re-opening in Hawaii.