Who's ready for some local feel good Hawaiian eats? I know I sure am. One of my favorite past times is eating, especially when I'm on vacation.
No matter where I travel I have to try a local favorite or two on the menu, and Hawaii has one must try heck of a list. Whether they are home-grown or adapted from the cuisines of the diverse cultures that have settled in the islands, the locals love them, and suggest you don‰'t leave without trying some. For bragging rights about truly experiencing the islands cuisine you need to go grab a plate, your appetite, and sit back for some local comfort food favorites.
Andagi
A sweet Okinawan confection made of flour, sugar, and eggs form into a ball, dropped in hot oil, and served warm and crispy.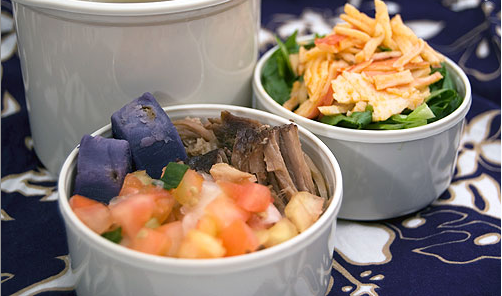 Bento
Hawaii's version of the Japanese takeout lunch typically features rice, pickled or cooked vegetables, and just about any combination of local food entrees you could want.
Boiled Peanuts
The secret to great Hawai'i-style boiled peanuts is using the right amount of sea salt when boiling and removing them from the heat at the right time.
Chicken Katsu
A Hawaii plate-lunch staple takes boneless chicken cutlet to crunchier extremes by drendging it in panko (Japanese bread crumbs) before frying. It's usually accompanied by a sweet/tangy dipping sauce.
Chili-Pepper Water
A combination of Hawaiian red chili pepper, vinegar, water, salt and, occasionally, garlic, it is used to kick up all local foods. This not for regular drinking water is Hawaii's answer to Tabasco.
Crack Seed
This preserved fruit snack is still primarily imported from China, crack seed treats range from sweet and salty dried cherries or peaches to pickled plums and mango and just about anything covered in li hing powder.
Cocoa Puffs
Not to be confused by any means with the cereal with the lovable bird on the box. This decadent, chocolate-cream-filled puff pastry that many have attempted to replicate originated from a bakery on Oahu', Liliha Bakery.
Edamame Poke
Poke style (seasoning) Edamame is a must try while on the islands. This favorite consists of sesame oil, sea salt, and fresh garlic and chili pepper bits.