Frequently Asked Questions for People Visiting Maui
Valley Isle FAQs
Q: Why is Maui called the 'Valley Isle' of Hawaii?
A: All the Hawaiian islands have nicknames. Kauai is the 'Garden Isle,' Hawaii is either referred to as 'The Big Island' or the 'Orchid Isle,' Oahu is 'The Gathering Place,' and Maui is the 'Valley Isle.' The name is derived from the fact that central Maui sits between two mountains. Haleakala to the east and the West Maui mountains to the west. Nearly all of central Maui is no more than 200 feet above sea level, while Haleakala stretches to some 10,000+ feet above sea level. Quite a contrast.
Q: So how big is Maui, and how many people live on the island?
A: It's the second-largest island in the chain, but don't let that statistic fool you. If you live on the mainland, the county you live in is likely larger than Maui. Maui is approximately 48 miles (76.8km) long and 26 miles (41.6km) wide, totaling 728 square miles. Chances are it'll feel larger than it sounds when you arrive, plus there is enough topographic diversity on this island to make it feel like a multi-state road trip on the mainland. Where on the mainland can you visit a tropical rain forest, a 400' waterfall, hike a lava field, visit a volcano's summit, and swim in the ocean on the same day? Maui has a population of about 140,000 people. During the peak travel months, visitors can often easily outnumber the local population. And though it's not directly related to the FAQ, we should probably also note that Maui, as a county, includes the separate islands of Lanai, Molokai, and Kaho'olawe.

Q: Where can I swim under a waterfall on Maui?
A: Before we give you the long list of gorgeous waterfalls on Maui, a few words of caution. The image of people frolicking under a cascading waterfall looks great on a visitor's brochure, but there are inherent dangers in standing underneath a natural feature. Streams feed waterfalls which means that what is coming downstream is also coming down the waterfall. That includes rocks, logs, and other things that could bonk you on the head. Another danger is microscopic but extremely dangerous. Leptospirosis is a wicked bacterium that seeps into streams from animal waste. If you do decide to wade in creeks or swim in waterfalls, do not drink the water and cover up open wounds. You can check out a few of Maui's best waterfalls on our Best Hawaii Waterfalls page (details and ratings of each fall included).
Q: I've heard about a big tree in Lahaina; what's that all about?
A: "Big" might be an understatement. The famous Banyon Tree in Lahaina is over 130 years old and shades almost two-thirds of an acre.

Q: What's the temperature like on Maui, and does it get THAT cold on Haleakala?
A: Maui has a summer average of around 78 degrees. In the winter months, that 'dips' down to 71 degrees. The ocean typically remains in the 80 degrees mark year-round. Haleakala is another story. Despite numerous warnings, dozens of visitors flock daily to the summit (some as early as 4 am for the sunrise) in shorts, t-shirts, and sandals. They leave with ice cycles on their noses. Haleakala frequently, even in the summer months, dips below freezing in the early morning hours. Haleakala recorded a low of 11 degrees F in the early 1960s. Point being, plan accordingly, and dress warmly. Even in the middle of the day, the temperature can be quite nippy compared to the coastal areas below.

Q: Are there any active volcanoes on Maui?
A: No, there are no active volcanoes on Maui. However, Haleakala is considered dormant, not extinct, which means it will likely erupt again at some point. Haleakala's last eruption has been dated to the late 1700s (subjective evidence) or the late 1400s (carbon dating).

Q: Are there any good beaches on Maui?
A: Oh yeah! Maui has over 30 miles of white, yellow, red, and black sand beaches. In fact, Maui has more miles of accessible beach than any of the other Hawaiian Islands. Not bad for the second youngest island in the chain.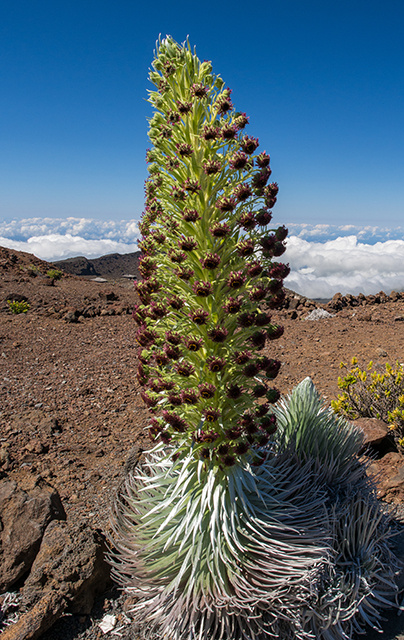 Q: Is the Hana Highway worth my time?
A: The short answer - Absolutely! But you might want to read our article, "Is the Road to Hana worth it?" to get a better idea of how this drive may or may not appeal to you.

Q: What exactly is a 'Silversword' plant?
A: The rare and endemic Haleakala silversword is a true sight to behold. Maui is one of the only places you can get an up-close view of these evolutionary wonders. Believe it or not, they're part of the sunflower family. The name "Silversword" originates from their sword-like leaves, which stick out rigidly from the center of the plant, forming a silver ball in shape. The plant almost looks like a large silver sea urchin. Approximately once in 40 years, the silversword flowers and then dies.

Q: I spy - several islands offshore... what islands are they?
A: Well, it depends on where you are. If you're in Kihei or Upcountry, you can view several islands. Facing the ocean, the small islet to your left is Molokini, the snorkelers haven. The large island behind it is Kaho'olawe, and the island on the horizon in front of you is Lanai (the sun sets behind it in the summer). To your right will be the West Maui mountains curving around, blocking your view of Molokai. However, if you are in Lahaina or Ka'anapali, you can get excellent views of both Molokai and Lanai offshore. If you're in east Maui, beyond Hana town, and you squint on a really clear day... you might even catch a glimpse of the Big Island's peaks in the far distance. You can also see the Big Island's peaks from atop Haleakala.