Molokini Snorkel Adventure
Molokini Crater
Some of the world's most beautiful and awe-inspiring sights can be found on Maui, an island revered for her breathtaking array of sea life and crystal blue waters- no trip to the island would be complete without a journey into Maui's seas. The waters are ideal for snorkeling with colorful tropical fish, mesmerizing coral reefs, and so much more.  And the absolute best place to snorkel in Maui is Molokini.
Molokini is a volcanic caldera located just off Maui's southern coast; in fact, it is one of only three volcanic calderas in the world. Its unique crescent shape provides a natural barrier against currents and waves, which contributes to the amazing visibility in its waters- often in excess of 150 feet.  Plus, its close proximity to Maui's shoreline makes it a safe haven for many types of sea life and other creatures; it has even been designated a Marine Life Conservation District. And because Molokini is such a special place, a Molokini snorkeling tour is a must-do while on Maui. With this in mind, we here at Hawaii Guide are pleased to introduce you to Pride of Maui- one of the best ways to snorkel Molokini. 
Molokini Snorkel
Pride of Maui's Molokini Adventure
Pride of Maui is a 65 ft. Maxi Power Catamaran that boasts 3,000 sq. ft. of deck space. She is known internationally for her stability, comfort, convenience, and fun atmosphere, as well as for the knowledge and experience of her professional crew.  
What makes Pride of Maui so unique? First, with her amazing panoramic view, you won't miss a single thing. Head to the sprawling upper deck for unforgettable vistas and photo opportunities; moving around is comfortable and easy, thanks to her spacious layout.
Then head down into the roomy main cabin where you'll find two restrooms, video presentation area, and a warm freshwater shower, a Pride of Maui exclusive. You'll also want to stop by the open hardwood bar to enjoy some ice cold beer on tap, wine, Mai Tais, tropical beverages, as well as filtered water, fruit juices, and sodas.
Drink in hand, stroll on over to the awesome glass bottom viewing area- the perfect place to spot Hawaiian green sea turtles, fish in every color of the rainbow, and all the fascinating sea life, without ever getting wet.
But if you do want to get wet by making a real splash, take a zip off the water slide- it's the coolest way to make a Maui ocean entrance!
If you're looking for a more subdued way to hit the water, Pride of Maui makes it easy for you with wide platforms and three submerged stairways; getting into and out of the water is a breeze.
And because all of this snorkeling, swimming, and sightseeing is sure to stir up your appetite, Pride of Maui and her crew have got you covered with a scrumptious BBQ lunch featuring juicy burgers, yummy hotdogs, grilled chicken breasts, and even hearty veggie burgers- served up with all the fixin's, of course.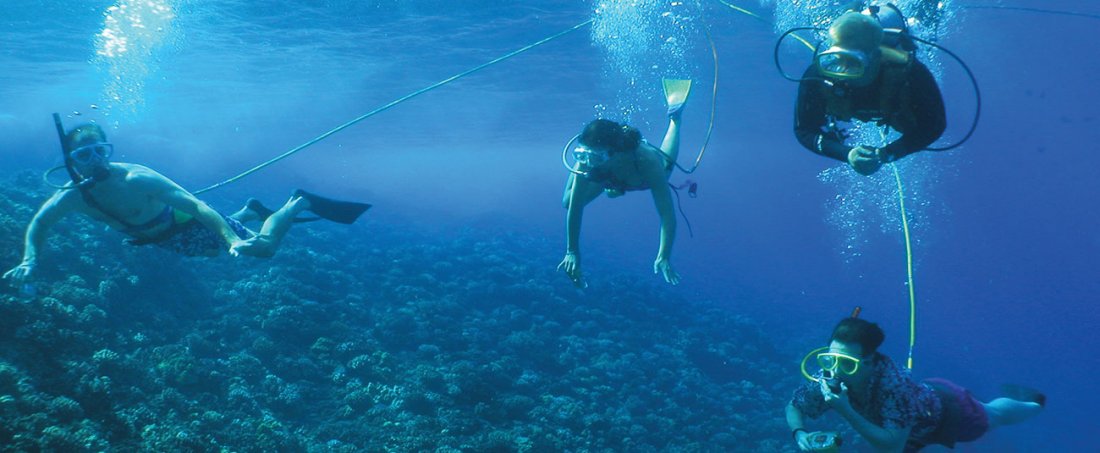 SNUBA with Pride of Maui
Things to do aboard Pride of Maui
Your Molokini Snorkeling Adventure also includes all the snorkeling gear you need. If you're feeling even more adventurous, why not try SNUBA- a fun combination of snorkeling and SCUBA. Plus, you'll be in good hands under the watchful eye of expert Maui SNUBA instructors. Even certified SCUBA divers can experience Molokini aboard Pride of Maui. All the gear you need is provided, or feel free to take your own equipment.
No matter how you choose to enjoy the water (or even if you don't leave the yacht), you'll head not only to the spectacular Molokini crater, but also to Turtle Town. As the name suggests, it's a haven for green sea turtles; in fact, the turtles here are so numerous and accustomed to human proximity that they may even swim right up to you as you calmly observe them.
Snorkeling Molokini is truly an unforgettable experience that you'll cherish forever. Make the most of your adventure by placing your trust in Pride of Maui's expert crew. Combine their 30 years of experience, spectacular yacht, and commitment to exceeding your expectations, and you have a recipe for an epic Molokini Snorkeling Adventure.