Mahina Hawaii's Full Day Adventure
Experience Oahu
Our mission here at Hawaii Guide is twofold: first, we want you to authentically experience the real Hawaii, not just participate in a tour; second, we strive to support businesses that show as much commitment to the environment as to their highly-valued guests. With this in mind, we are proud to introduce you to Mahina Hawaii.
Founded by husband and wife team Ryan and Beccy Hailstones, Mahina Hawaii was born when the duo combined their passions for holistic living and nutrition, water sports, and yoga. Incorporate this with their desire to give you a completely unique Hawaiian adventure and to exceed your expectations, and you have the perfect recipe for an unparalleled Oahu adventure.
Allow us to recommend the Mahina Hawaii Full Day Adventure Retreat- it's the absolute best way to experience everything Oahu has to offer. Above all, it's the most fun you'll have on the island and you won't have to worry about or plan a thing, as the entire day is meant for you to relax, play, and experience Hawaii as it should be.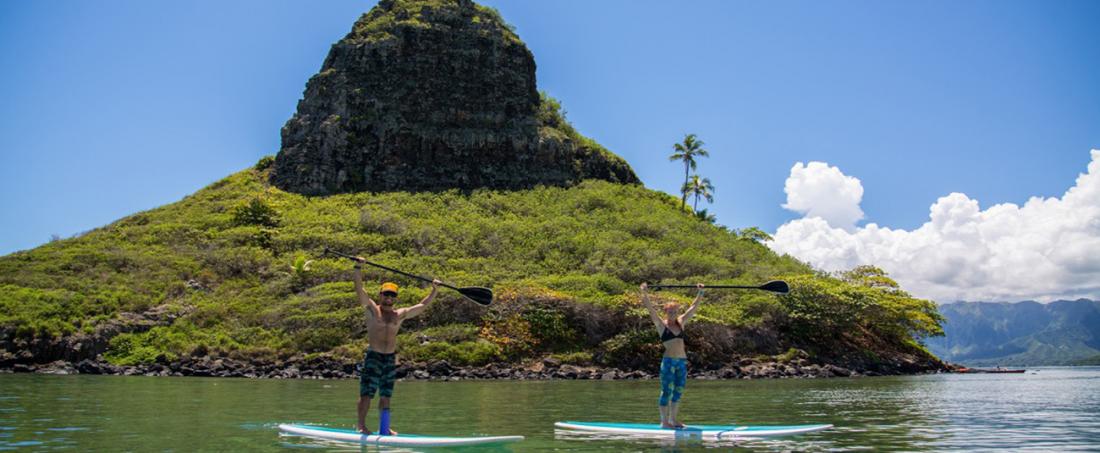 Explore Oahu with Mahina Hawaii
Full Day Adventure on Oahu
First, you'll be picked up at your hotel in a luxury surf minivan and whisked away on a circle tour around the island. And here's what makes Mahina Hawaii so special- don't expect to see the most popular 'tourist' spots- if locals don't go there, you won't go there. However, you will visit several different secret locations around Oahu- each more phenomenal than the last! You'll love hiking Oahu's gorgeous landscapes; Surfing or Stand up Paddle Boarding enchanting waterways; snorkeling with green sea turtles; nourishing yourself with freshly prepared, local, and delicious foods; and learning about the history of the locations you visit. You'll even get great photos of yourself and your group at each location.
Mahina Hawaii wants you to get to know Oahu in a much more intimate way than many other tour companies- their purpose is to "reconnect you with the natural beauty of the outdoors, connect you on a deeper level with pure foods, and find the beauty and happiness of yourself inside and out."
And because Mahina Hawaii understands that every individual and group is unique, they customize each tour for your particular needs and desires- meaning you get a fully personalized experience; from the selection of foods offered to the length and difficulty of the activities, and more.
Our Recommended "Best Way" to Explore Oahu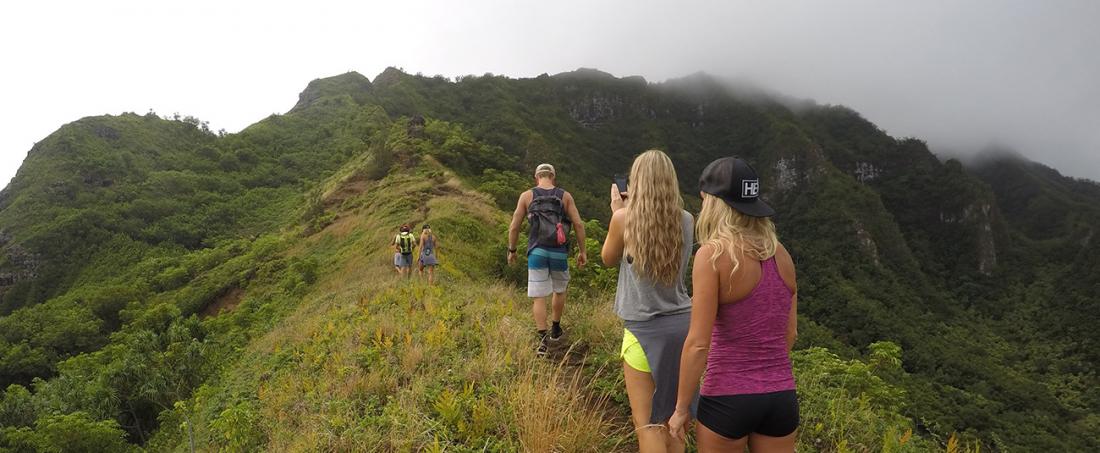 Book Your Full Day Adventure - TODAY!
We here at Hawaii Guide are excited to recommend Mahina Hawaii and hope you'll take advantage of their Full Day Adventure Retreat, as it truly is the easiest way to get to know a different side of Oahu- the side most tourists don't see. All you need to do is let Mahina Hawaii know what you're up for: whether you'd like a more strenuous hike, an easy-going adventure for the kids, or maybe some SUP yoga on the river- this experience is for YOU, and focuses solely on you and on making sure you have a once-in-a-lifetime adventure. We also love that Mahina Hawaii believes in being good stewards of the islands- not only do they care well for each of their guests, they also show the same consideration for Hawaii's delicate ecosystem. It's a win-win for both you and the environment.
Visitors consistently give Mahina Hawaii rave reviews; one recent guest called the experience "epic" and "one of the best days of my life." Please don't miss out on everything Mahina Hawaii can offer- book their Full Day Adventure Retreat today.