Sunrise at the summit of Haleakala is like nothing else on earth.
And if you're an early riser, you too can see why this volcano is called 'House of the Sun.' Each morning dozens of people flock to the chilly peak of Haleakala to witness the sunrise above the 10,000 foot summit. No doubt you already know this, but Haleakala's summit is located inside Haleakala National Park.

If you want to beat the traffic and get a good spot, we suggest you leave no later than 3:30 am. It takes one hour to reach the summit when leaving from Kahului, 1-1.5 hours from Kihei, and 2 hours from Lahaina. Despite the early morning rise, it's always well worth it. If you feel this is too early for you, consider a Haleakala sunset, but be aware more clouds are present later in the day. The very latest we'd suggest entering the park in the morning is 4:30 am, as sunrise will typically be around 5:30-7:00 am (see the sunrise/sunset chart for specifics).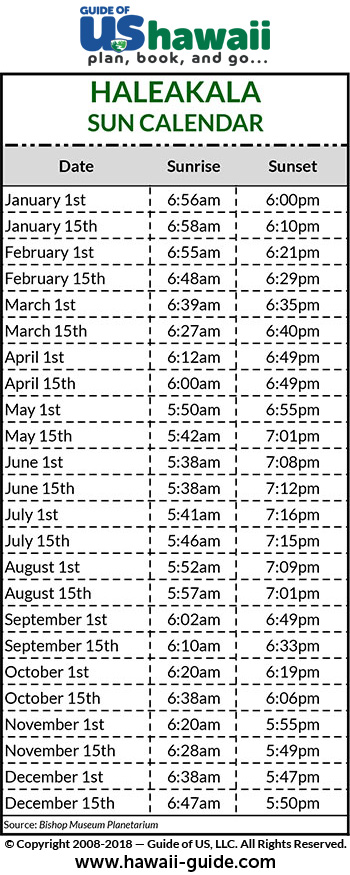 Temperatures range between 20-40 degrees Fahrenheit at the summit of Haleakala, so be sure to dress warmly. A view of the sunrise is weather permitting, so check the weather before you go if possible.
Just a side note, but attempting to view the sunrise and hike at the summit of Haleakala in the same day are ill advised. When you get up at 3:30 am, your energy drains quickly at this elevation in the cold from shivering. Lived and learned, so trust us on that.
Hawaii Guide's Recommended Sunset & Sunrise Haleakala Tours: