Kalalau Trail
Labeled 'the' hike on Kauai, the Kalalau Trail is a 11 mile trek into paradise. A vast array of verdant valleys, waterfalls, sea caves, and gorgeous vistas lay ahead of you. If spending 3-5 days to hike the entire trail isn't exactly on the agenda, then consider the popular day hike from Kee Beach to Hanakapiai Beach, approximately 2 miles along the trail (four miles round trip). Ke`e Beach to Hanakapia`ai Beach 2 miles (4 round trip) As you begin the trail you'll traverse through a lush jungle-like scene of pothos and other philodendron. The trail can be steep and rocky in places, but trust us - it's the climb you'll notice most. Use extreme caution in any wet portions (granted, it's almost all wet along this stretch), and expect mud if it has rained recently. After the first leg of the climb, at about half a mile, you emerge on a red dirt path that borders the cliffside overlooking the gorgeous Na Pali coastline. Azure blue waters lie beneath you to the right overlooking Ke`e Beach below.

You've climbed to the highest point between Ke`e and Hanakapi`ai; about 500 feet above sea level. The short portion of the trail to this point can be a lot of work, but this is one of the most gorgeous views of the hike. If you can't or don't want to day-hike to Hanakapi`ai Beach, at least try to make it to this overlook (one mile round trip). During the winter months you will be rewarded with views of outstanding waves, while in the summer you may see a group of kayakers floating along the current on the calm seas. After you finish your first mile you'll really start to be rewarded with stunning view of the Na Pali coast. You're well on your way down to Hanakapia`ai beach now, and be sure to enjoy the trek down - it's mostly uphill on the way back.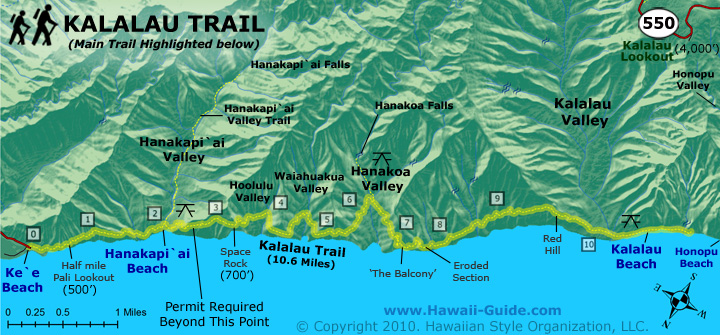 Just shy of two miles, the trail dips steeply downward through several switchbacks and you'll soon find yourself at Hanakapia`ai Stream. Use extreme caution crossing the stream and if it's rained recently and the flow is high, do NOT cross at all. If you want to cross without getting your feet wet, you can sometimes skip across the rocks if you head inland a few meters; otherwise use the rope to help guide yourself through the stream. After crossing the stream, to your right is Hanakapiai Beach. Some pit toilets, that leave much to be desired, are also to your left (near where the trail continues and/or heads back to Hanakapi`ai Falls). In the summer months, there is plenty of sand on the beach, but in the winter you'll be surprised to see only lava boulders at times. Every year the current carries the sand into the ocean only to return it in the spring! Do NOT swim at the beach here, the rip currents are deadly (you probably saw the sign on the way down totaling all the drownings here). Total elevation gain (going and returning along all inclines) between Ke`e and Hanakapi`ai is 1060 feet and the hike takes approximately an hour and a half at a moderate pace. Hanakapia`ai Beach to Hanakapi`ai Falls 2 mile side hike (4 round trip) As a side trip (extended day hike) you can follow the un-maintained Hanakapiai Falls trail upstream for two more miles to reach this spectacular 100-foot high Hanakapiai Falls. Please note this is an additional 2 miles (4 miles round trip) not included on the Kalalau Trail. It can take up to two hours just to reach the falls, and requires numerous stream crossings. If it's rained recently, don't go. Total elevation gain to the falls from Hanakapi'ai beach is 760 feet. This is a fairly strenuous hike Hanakapia`ai Beach to Hanakoa Valley Approx 4.5 miles If you're looking to continue beyond Hanakapi`ai, you'll need a permit from DLNR (Call for more info: (808) 274-3444). They offer both day-hike and limited camping (days) permits. The hike out of Hanakapiai is a rather arduous climb and the views are mostly behind you (be sure to look behind you at the beach as you climb). You'll hike through a 'grove' of some of the largest Yucca plants you've likely ever seen; they range in size from that of a small bean to the size of your house. You also can't help but notice how much the trail has narrowed - only a fraction as many people hike this portion of the trail as that between Hanakapi`ai and Ke`e.
After passing the "Permits Sign," and doing a good bit of climbing, you'll come to 'The Gate' and 'Space Rock.' This is approximately 3.5 miles from the trailhead and is the highest point anywhere on the Kalalau trail, approximately 700ft above the waves below. You can hike behind the rock for a jaw-dropping drop off - but use extreme caution if you do so - it's a very long way down. As you keep going you'll begin the hike into Hoolulu Valley, which is the first major valley after Hanakapi`ai Valley along the Kalalau trail. It's approximately 3.7 miles along the trail, and the 4 mile marker is inside the valley. Parts of the trail here can be steep, so use caution. At approximately the 4.5 mile mark is the entrance of Waiahuakua Valley. The views here up the Pali are stunning. From this point it is still another grueling 6.5 miles to Kalalau Valley. If you are able to obtain a day permit to hike to this point, it's a good place to turn back and head for the trailhead. For the bold day-hiker, you can continue to Hanakoa Valley and still make it back in the same day. If you're hiking all the way to Kalalau Beach, Hanakoa (if camping is permitted at the time of your hike) is a good place to stop for the day. At the entrance to Hanakoa Valley (about 5.8 miles along Kalalau Trail) there is a spur trail that leads over to a ridge that provides great views up and down the Pali towards Ke'e Beach and into Hanakoa Valley. You'll notice the spur trail to this ridge leave the main trail literally right as you enter the valley. Use extreme caution out on the ridge if you walk out onto it, as the drop-off is severe on either side. Another ridge trail exists on the other side of the valley as well. Hanakoa Valley to Kalalau Beach Approx 4.5 miles
After Hanakoa you climb up and do not return to sea level until about five miles later when you reach Kalalau beach. Expect to traverse narrow pathways that at times seem precariously close to the cliff side. One part is infamously called 'The Balcony.' This can be a nail-biting hike in some spots, so use extreme caution, watch your step, and be attentive of winds before going around any sharp turns on the cliff face. The final descent into Kalalau is like a trip into the Garden of Eden itself. There is a natural waterfall and plenty of places to camp. There are even a variety of sea caves to explore at the end of the beach. To reach the trail head, take Hwy. 56 all the way north to the end of the road and park at Ke'e Beach. On the left, in the parking lot before you reach the beach, you'll see the trailhead next to a large sign labeled 'Kalalau Trail.' Kalalau Trail with a Guide: If you want to camp in Kalalau but are unsure if you want to do it on your own, Kauai Hiking Adventures has a team of experts who can help you out. Some of the guys have hiked the trail 50 or more times and know the valley as well as their own neighborhoods Additional Resources: State Park's Trail Brochure for Kalalau Trail (with Map) Hawaii State Parks Permit Page (for all camping or hiking beyond Hanakapi`ai) 'A Kauai Blog' - Third Party Google Earth Trail Map & GPS
Kalalau Trail Videos
Hanakapiai Beach
Hanakapiai Beach
Kalalau Trail Half Mile In
Hoolulu Valley
Waiahuakua Valley
Hanakoa Valley
Summary: Kalalau Trail is located on Kauai in Hawaii. Kalalau Trail is located in Na Pali Kauai.
Description: Labeled 'the' hike on Kauai, the Kalalau Trail is a 11 mile trek into paradise. A vast array of verdant valleys, waterfalls, sea caves, and gorgeous vistas lay ahead of you. If spending 3-5 days to...


Terms of Use:

The use of this website is your expressly conditioned acceptance of the terms, conditions, and disclaimers found within our

Disclaimer of Warranty and Limitation of Liability

page without any modifications. Your use of this website constitutes your acceptance of all the terms, conditions, and disclaimers posted herein. If you do not agree with any part of these terms and conditions, you should not use this website.