A lot of folks have asked us to create a simple Road to Hana map to go along with our more detailed Road to Hana eBook maps. The road to Hana has more stops and sights to see than any other drive in Hawaii. Below you'll find a simple road map detailing the Road to Hana, officially known as the Hana Highway. We've also included four samples of our detailed Road to Hana maps (click them to see the larger versions); you can obtain the full set of 6 highly detailed maps FREE as an Ohana Member. These maps are highly detailed and made to be printable at home on standard printer paper.
Another great option to consider is making a reservation with with Valley Isle Excursions on their guided Road to Hana Tour. They offer hotel pick up from most major locations, have a wonderful and professional staff, stop at 13 different scenic spots during the course of the day and their customized vans have panoramic windows which make for a great view of the scenery.
Highly Detailed Road to Hana Maps
-
FREE for Ohana Members
Click any map below to enlarge it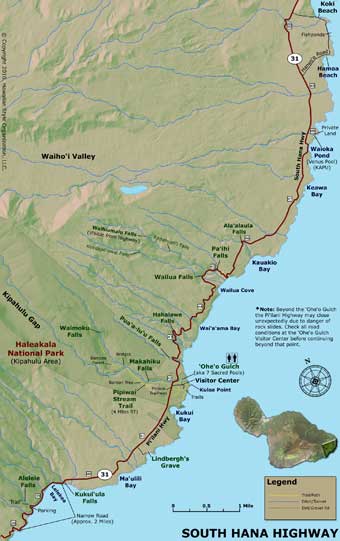 Basic Hana Highway Map with Routes
Selecting the best Hawaiian Island for you
As noted, selecting the right island is no easy task for many visitors. It can be a confusion and even frustrating job, and that's probably the last thing anyone wants when planning a trip to Hawaii. So we've done our homework and created a little quiz that should help you determine the best island for you.
Quiz Instructions
Basically you're going to read a series of questions below and our automated quiz will score each applicable question with a set number of points for each island. To ensure a proper score you should answer all of the questions.

While there are six major islands that you can visit in Hawaii, we've only detailed four of them. Why? Because the bulk of all visitors, probably some 98%, will never visit Molokai or Lanai. Even though you probably think we're crazy to omit them at this stage, we can assure you through experience that at this point, you'll be much better off selecting and visiting one of the major four. Once you've completed the quiz, our quiz will tally the points for each island, and you should have an good idea of where to book your next trip.

Please answer ALL Questions with a "Yes" or "No" response
---