The Big Island is by far the largest Hawaiian Island, as well as the most diverse in terms of climate. With so many different regions, elevations, and precipitation clusters, the contrasts can be quite stark. That's why we're including these handy maps here- to help you get a better idea of what to expect during your stay.
Below you'll several different maps of the Big Island of Hawaii, including both a simple (with mileage) and detailed map of the Big Island of Hawaii. Any map can be clicked on to enlarge it to full size. All of these maps can also be purchased from us as high resolution (330dpi PSD) print-ready files. Please contact us if interested in purchasing any of these maps.
Printable Big Island of Hawaii Maps
Click any map below to enlarge it...
Basic Big Island Map with Mileage Chart
Detailed Big Island Map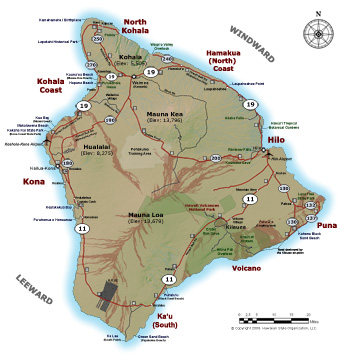 Big Island Volcanoes by Land Area
Big Island Precipitation